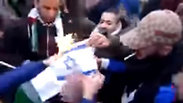 Israeli flag being burned in Stuttgart demonstration
German president condemns Israeli flag burning in protests
During demonstrations held in Germany last week in response to President Trump's decision to recognize Jerusalem as capital, Palestinians burn Israeli flags; German President Steinmeier lights Hanukkah candles alongside Israeli Ambassador to Germany Issacharoff, condemns flag burning; 'We must take responsibility for our history, learn from it. We have a responsibility for Israel's security, must combat racism, anti-Semitism,' president says.
German President Frank-Walter Steinmeier visited the home of Israel's Ambassador to Germany Jeremy Issacharoff Friday to light the fourth Hanukkah candle and mark the beginning of the 70th year of Israel's independence. During the event, attended by some 100 guests, Steinmeier apologized for Palestinian protesters burning Israeli flags in the country last week.

Rallies were held in multiple German cities in the wake of President Donald Trump's recognition of Jerusalem as Israel's capital. In two demonstrations held in Stuttgart and the German capital of Berlin, Palestinian protesters waved Fatah and Palestinian banners and burned Israeli flags.

"In the same week our country's Jewish citizens light Hanukkah candles, Israeli flags were being burned on German soil. It frightened me and I'm ashamed. We will not accept any anti-Semitism in Germany, neither loud nor quiet, old or new—anti-Semitism has no place in Germany," Steinmeier said during the morning's event.

Anti-Israeli demonstrations in Stuttgart and Berlin

"We must take responsibility for our history, and learn from the two World Wars and the Holocaust. We have a responsibility towards the State of Israel's security and must combat any form of racism and anti-Semitism," the German president avowed.

Ambassador Issacharoff then thanked the president for his attendance and for his country's unwavering commitment to Israel. Issacharoff also noted ties binding Germany and Israel have never been stronger, and hold strategic significance of the highest order for Israel.

"This strategic partnership serves the national security interests of both countries, and strengthens their security and the welfare of their two peoples. Just as Germany's role on the international stage has grown more prominent, so has Israel's role in the Middle East in light of regional threats and challenges facing both Israel and its Arab neighbors," the Israeli ambassador said.

"The past few years have proven that what happens in the Middle East does not stay in the Middle East, and can affect Europe's security and complexity deeply. In this respect, my suggestion is to look beyond daily headlines to truly see how Germany and Israel may come together to contribute to our region's moderation and stability," he added.

Elsewhere in Europe, the European Union has adopted a resolution announcing resistance to President Donald Trump's decision to recognize Jerusalem as Israel's capital while affirming the organization's commitment to achieving a two-state solution for Israel and the Palestinians.

President of the European Council Donald Tusk noted leaders of all 28 EU member states approved the resolution.