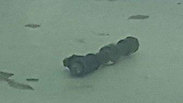 One of the pipe bombs
Photo: Israel Police
A Palestinian carrying two pipe bombs was arrested outside a West Bank military tribunal on Sunday.

The Jenin resident was trying to enter the Samaria military court near the village of Salim.

Police and Border Police troops on the scene instructed the Palestinian to remove the coat he was wearing and lay it down on the ground.

A police sapper who was called to scene examined the coat, where he found the pipe bombs.

Entry to the tribunal was temporarily blocked as police sappers neutralized the explosives.