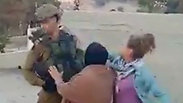 A video has surfaced Monday showing Palestinian girls aggressively provoking IDF soldiers in the West Bank town of Nabi Salih. Despite the fact that the provocation became quite physical, the soldiers maintained their composure and did not respond.

In the video, which was filmed during the weekly Friday protests in Nabi Salih, two young girls are seen provoking and aggravating the soldiers, trying to hit and kick them, all the while the soldiers do their best to ignore them.

The girl hitting the soldiers is Ahed Tamimi, the daughter of one of the Nabi Salih's prominent activists who organizes the weekly Friday protests in the town.

She is seen calling on the soldiers to leave the yard in which they are standing as another woman arrives and attempts to get in between the stoic soldiers and the girl.

It is evident that the video photographer was careful to ensure that only women and girls were in the frame thereby creating an underdog effect, assuming the soldiers would respond to the physical harassment and try to arrest the girls–a scene that would have caused quite an uproar.

The IDF is backing the actions of the soldiers and, as in any situation, is exploring whether the incident could have been handled differently.

This is not the first time a member of the Tamimi family was documented provoking soldiers. Several years ago, a video surfaced of Ahed Tamimi biting a soldier who had come to arrest her brother during disturbances at the weekly Friday protest.

In another incident she can be seen shouting at soldiers during a protest and trying to cause them to lose their composure.