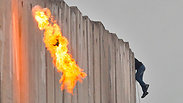 Day of rage sweeps West Bank ahead of UN Jerusalem vote
Anger and violence continues to grip West Bank and Gaza border region as Palestinians vent ahead of UN General Assembly vote on Jerusalem to pressure President Trump into withdrawing Washington's recognition of city as Israel's capital; Molotov Cocktails, rocks, hurled at Border Police.
Violent clashes broke out Wednesday afternoon between around a thousand Palestinian rioters and Israeli Border Police in Qalandiya in yet another "day of rage" declared in the West Bank by Palestinian factions, including Palestinian Authority President Mahmoud Abbas's Fatah party.

Border Policemen came under attack as Molotov Cocktails and a barrage of rocks were hurled at them ahead of the UN General Assembly vote scheduled for Thursday in a rare emergency special session at the request of Arab and Muslim states on US President Donald Trump's decision to recognize Jerusalem as Israel's capital.

Day of Rage in Qalandiya (צילום: גיל יוחנן)

Sporadic violent eruptions also dotted other Arab-populated areas, including in Hizma, where soldiers were pelted with rocks.

In Ramallah, a march was held and led by Fatah deputy party leader Mahmoud Al-Aloul, as the continuing current of protests galvanized towns and cities in the West Bank, including Nablus, Hebron, Halhul, Qalqilya, Bethlehem, Tulkarm and Beit Hanoun in northern Gaza.

The violent unrest has permeated the area for more than two weeks since Trump's declaration, and the latest show of anger was declared in anticipation of US Vice President Mike Pence's visit to Israel Wednesday—a visit that was eventually delayed.

Palestinian UN envoy Riyad Mansour said the General Assembly would vote on a draft resolution calling for Trump's declaration to be withdrawn, which was vetoed by the United States in the 15-member UN Security Council on Monday.

The remaining 14 Security Council members voted in favor of the Egyptian-drafted resolution, which did not specifically mention the United States or Trump but which expressed "deep regret at recent decisions concerning the status of Jerusalem."