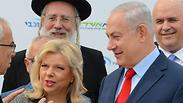 Netanyahu and his wife at the hospital opening ceremony
Photo: Avi Rokach
Prime Minister Benjamin Netanyahu slammed the United Nations on Thursday, calling it a "house of lies" ahead of a vote on a resolution expected to pass at the General Assembly that criticizes US recognition of Jerusalem as Israel's capital.
"Jerusalem is the capital of Israel, whether the UN recognizes this or not," Netanyahu said at the inauguration of the university hospital at the Assuta Medical Center in Ashdod.
"It took 70 years for the US to recognize this officially, and it'll take years more for the UN to recognize it as well. The treatment of Israel among many countries on all continents around the world is changing, and it will ultimately permeate into the halls of the UN," he asserted.
The prime minister said Israel "rejects this vote out of hand, even before it is passed."
"Jerusalem is our capital. We will continue building in it, and embassies of foreign nations, primarily the US, will move to Jerusalem. Write what I'm saying, because it will happen," Netanyahu added.
Israel is intensively lobbying countries around the world to oppose the UN resolution. An Israeli Foreign Ministry official confirmed the government was making a "very vast" lobbying campaign to minimize the resolution's impact.
He said Israel is trying to persuade allies to abstain or even vote against it. He also said that Israel has asked Jewish organizations in certain countries to lobby their governments on Israel's behalf.
The official, speaking on condition of anonymity because he was discussing sensitive diplomatic contacts, refused to identify which countries Israel has approached or say how he expects them to vote. But he said he thinks the campaign will be "successful to a certain extent."
The Palestinians have turned to the General Assembly after the US vetoed a resolution this week in the Security Council calling on Trump to rescind his decision. While General Assembly votes, unlike Security Council resolutions, are not legally binding, they serve as a barometer of international sentiment on key issues.
The US and Israel are both placing great weight on Thursday's vote. US Ambassador Nikki Haley threatened UN member states with possible retaliation if they support the resolution, saying Trump takes the vote "personally" and the US "will be taking names."
Trump went even further, telling reporters at a Cabinet meeting in Washington that opponents were likely to face a cutoff in US funding. "For all these nations, they take our money and then vote against us," Trump said. "We're watching those votes. Let them vote against us. We'll save a lot. We don't care."