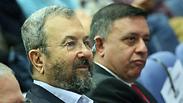 Ehud Barak
Photo: Motti Kimchi
Barak: Government's policies will lead IDF, Shin Bet to disobey orders
Former PM Ehud Barak warns nationalistic agenda led by the government, which could lead to the creation of a bi-national and undemocratic state, will lead top security chiefs to refuse following the government's illegal orders; Akunis: 'Barak has gone off the rails.'
Former prime minister and defense minister Ehud Barak has warned that the current government's policies could lead to insubordination from the IDF and the Shin Bet's top ranks.

"The government's policy of creating one bi-national and undemocratic state will lead to top military and Shin Bet officers having no choice but to disobey orders," Barak, who is also a former IDF chief of staff, said at an event in the Jordan Valley on Thursday.

The nationalistic agenda led by the government, Barak asserted, would lead the High Court of Justice to strike down laws under this agenda, bring the public to the city squares to protest, and have the media brand it with a mark of shame.

"This will cause military and Shin Bet personnel–who by law are not only allowed to refuse an illegal order but they must refuse it–might not carry out the orders they will receive," he explained.

According to Barak, "Realizing this might happen, this right-wing government would have no choice but to strike the Supreme Court, attack the civil society and its organizations, silence the free media, and storm the IDF to undermine the army's ethical code. All of these things are happening one after another, right before our eyes."

He accused the government of inciting and dividing, adding that "in a dark nationalist regime, there's use made of existential threats from without and traitors from within. To incite and divide, to sow internal hatred to ensure (the government's) existence."

He also leveled a personal attack against Prime Minister Benjamin Netanyahu. "Bibi is an expert at it, in creating this week's or this year's Hitler. Every time there's a Hitler-de-jour who threatens us with a new Holocaust," Barak charged.

Barak's comments were met with outrage from Likud ministers. Science Minister Ofir Akunis claimed Barak has "gone off the rails," adding: "From one tweet to another he radicalizes his comments to get attention, and unfortunately he succeeds. The most failing prime minister in the country's history–who gave up everything, including the Old City, and instead of peace we got the gravest intifada in our history–should make fewer comments, which disgrace only him."

Communications Minister Ayoob Kara echoed Akunis's sentiments, saying Barak is "the old man with the new beard, who used to be prime minister, and is now rousing fear and blabbering on. And why does he think the government would cause officers and personnel in the Shin Bet disobey orders? I hope he doesn't hope or act to that end."