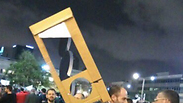 The guillotine at the Tel Aviv rally
Likud: Prop guillotine at Tel Aviv rally is incitement to murder
Ruling party says prop guillotine is call to murder PM Netanyahu; Amit Brin, who built it, stresses his creation was not meant as a call to violence, but rather to connote 'disproportionate hedonism' and serve as 'a historical reminder to the victory of the citizenry over a corrupt ruler.'
The Likud Party accused the left-wing on Saturday night of inciting to the murder of Prime Minister Benjamin Netanyahu after a protester at the Tel Aviv anti-corruption rally the same night was spotted walking around with a prop guillotine.

"The guillotine this evening on Rothschild is an incitement to the murder of Prime Minister Netanyahu, alongside the derogatory calls being made against Zionism. The left-wing protest on Rothschild has crossed all the red lines," Likud wrote in a tweet.

The protester who made the prop guillotine, Amit Brin, rejected the claims of incitement, saying, "They're diverting your attention away from the purpose of the protest."

"I am against any type of violence, and those who thought I was calling for violence have been misled," Brin added in a post on Facebook.

"I've never used violence my entire life, and I have no intention of doing so in the future. This is how I educate my children, and I ask anyone who interpreted something I said or did as a call to violence to stop and not do it," he stressed.

Explaining why he chose to bring a prop guillotine to the protest, Brin said, "A cigar cutter connotes disproportionate hedonism in our day and age—corruption and disconnect. A guillotine is imagery that serves as a historical reminder of the victory of the citizenry over a corrupt ruler who broke their trust."

Brin then stressed again that violence was not the intention behind bringing the props, arguing that Likud's complaints were merely a diversion from the important factors.

"Neither I, nor anyone else I know, have any intention of using either of these. But those who point to these images to sic you against me are trying to draw you attention away from the purpose of the protest and use you to incite us against each other so they can shirk off their public responsibility," Brin said.

He went on to add he had no ties to a political party. "I am not a member in any organization or movement. I don't fund nor am I a registered voter of any party, and I don't take part in any organized political activity other than independently coming to street protests to realize my right to protest," he wrote.

He stressed he has "no ties to the protest leaders, its organizers, its operators or its financers. I've never met any of them, and we have no contact even now."

President Reuven Rivlin also issued a condemnation of the prop guillotine, saying it is "clear incitement, which crosses the lines of the freedom of speech and protest. I condemn and denounce the clear statements evident in such a display."

Finance Minister Moshe Kahlon stressed that "the right to protest is not the right to incite," adding that the guillotine display "constitutes the crossing of a red line."

Kahlon went on to say that "we need to let law enforcement authorities to work in peace, without political pressures, without de-legitimization of gatekeepers and without incitement on the streets."

Agriculture Minister Uri Ariel called for an immediate police investigation against Brin. "The fact the organizers are not outright condemning this in the most clear way is grave in and of itself," Ariel told Ynet.