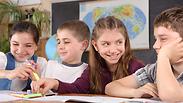 File photo
Photo: Shutterstock
Report notes spike in suicide attempts, high risk of poverty among Israeli children
Annual report by the Israel National Council for the Child points to high rate of teen brides in Israel compared to most Western nations, and low rates among teens doing drugs or getting drunk compared to other countries; report also notes increase in number of overweight children, who spend more time online or in front of the TV and less time exercising.
There are 2,851,911 children living in Israel, according to the annual report by the Israel National Council for the Child released Tuesday.

According to the report, the number of children in Israel more than doubled since 1970. But while in 1970 children made up 39 percent of the population, in 2016 they only made up 33%.

The average number of children per family is 2.4 In 2016, there were 1,156,952 families in Israel with children. Nine percent of all children were living in single-parent families, compared to 7% in 1995.




Teenage girls under the age of 19 made up 7.5% of all marriages in Israel in 2016—a high rate compared to most western nations. In Germany, France and Spain that rate stands at less than one percent.

Children and teens aged 17 or younger make up 32.6% of the population in Israel, a high rate compared to the US and France (about 22%) and Germany (some 16%).

More than 77% of children aged 7-17 reported to have been offended online. Thirty-four percent unintentionally encountered pornographic content on the web. More than half of teenagers aged 13-17 keep embarrassing or intimate photos on their cellphones.

Eighty-seven percent of children aged 7-17 spent two hours or more online every day. Ninety percent of teens aged 13-17 use WhatsApp, 75% use Facebook, 61% use Instagram and about half of teens in Israel use Snapchat. In addition, 56% of teens use emojis in almost every message.

Out of the 40 countries examined in the report, Israel was found to be in second place in the rate of students who watch TV for four hours or more a day, while it came in one spot before last in the rate of students who exercise. Eighteen percent of first graders and 30% of seventh graders are overweight, while 2% of first graders and 4% of seventh graders are underweight. Meanwhile, the rate of Israeli students who eat fruit and vegetables more than once a day is the highest among the 40 countries examined.

Among 15-year-old Israeli students, 6.7% have used drugs at least once in their lives—compared to 26.8% of their peers in France and some 20% of their peers in Switzerland, England and Spain. 8.6% of Israeli students aged 11-15 have gotten drunk at least once in their lives—the second lowest rate among the 40 countries examined.

The rate of minors with criminal records in families where the parents are not married is almost three times higher than in families where the parents are married—23 for every 1,000 compared to 8.4 for every 1,000, respectively. For two thirds of minors aged 12-18 who have criminal records, neither parent had any convictions.

There has also been an increase in suicide attempts among Israeli children: 773 children and teens were rushed to the ER in 2016 after attempting to take their lives. Among them, 608 were girls—almost four times the number of boys. 40% of the minors who tried to commit suicide during 2016 were under the age of 14, and the rate of minors under 14 who tried to kill themselves increased by 40% over the past decade.

Between 2006-2016, the number of criminal cases opened for harming minors increased from 14,513 to 17,445. 57% of cases opened for offenses committed against children inside the family were closed, as were 81% of cases opened for offenses carried out against children outside the family.

The number of criminal cases opened for sexual offenses committed against minors increased from 2,003 in 2011 to 2,514 in 2016. 15% of all cases opened in 2016 for sexual offenses against minors were for sexual harassment, compared to 4% in 2006. Report authors said they believe the increase can be attributed to online offenses.

At the beginning of 2016, welfare services were treating 438,963 children, who make up some 15% of all children in Israel—an increase of 55% since 2000. 72% of at-risk children were hurt by someone from their own family. The most common reasons of reports made to welfare services were neglect, physical abuse and sexual abuse.

Almost a third of children in Israel (31.2% or 881,369 children) are living under the poverty line; among them, 58.7% of ultra-Orthodox children and 62% of Arab children are poor.

Since 2000, there has been erosion in the ability of transfer payments to reduce the rates of poverty. In 2016, only 11% of poor children were able to get out of poverty thanks to transfer payments, compared to 29% in 2000.

Israeli children are among the poorest among OECD countries. In 2015, 34.5% of children in Israel were at risk of poverty—a much higher percent than all countries examined and twice the OECD average.

The data for the report was gathered from a variety of sources, including the Central Bureau for Statistics, the National Insurance Institute, the Israel Police, the Education Ministry, the Health Ministry, the Israel Internet Association and more.