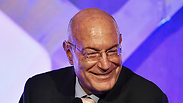 Billionaire Arnon Milchan testified that he gifted Prime Minister Benjamin Netanyahu's wife Sara with jewelry worth $2,500 only because Netanyahu himself explicitly told him it is not illegal, Israel Television News Company reported Wednesday.

In was reported months ago that Milchan was asked by the police about the expsensive jewelry he had bought for Mrs. Netanyahu.

Milchan's testimony to the police, as was handed to them by his confidants, described the prime minister's wife's heavy pressure on the billionaire and his associates.

"Hadas Klein (Milchan's assistant—ed) said that Sarah was asking for a piece of jewelry for her birthday, but (Milchan) refused and said he wanted to hear from (Benjamin Netanyahu) that it was legal for him to buy a piece of jewelry at that price," Milchan's confidants told the police.

"Hadas relayed that to Sara and she said in response that she was being humiliated, But Arnon told Hadas that he does not approve of the purchase until he hears from the prime minister himself."

Klein is said to have spoken to Sara Netanyahu again.

"Sara said that (Benjamin) replied that they spoke with legal consultants and that this gift is permissible. Hadas updated Milchan and he said that it was not enough for him," they said, but added that "Milchan later spoke with (Benjamin) Netanyahu on the phone and the latter confirmed that there was no legal problem.

"It was important for (Milchan) to get the approval because it's not like cigars and champagnes. It's not perishable and it seemed that a line was being crossed, but Sara has no lines."

Milchan later tried to explain his motivation to please the prime minister and his wife, manifested by the gifts he furnished on them.

"It is important to him that he be close to the prime minister because he can influence matters related to the state," his confidants said, adding that the pink champagne "was given to Sara in order to calm her down and to give (Benjamin) some piece of mind from her."

Sources close to Milchan said the gift still seemed be be too extravagent to him. They tried to reject the request, but Mrs. Netanyahu continued to insist, and even raised the issue in a meeting with Milchan at his home in Beit Yanai, and after the permits he received, it was decided that he had no choice.

Following the talks, Milchan is reported to have acquiesced to her demands, and allowed Klein to buy Sara a piece of jewelry worth $2,500.

The Netanyahu family has denied any wrongdoing.

"For obvious reasons, we cannot relate to the distorted way in which things are presented and set forth," they said in a statement.

"The conduct of the Netanyahu couple on this issue and on every other issue has been flawless. All the continuation of the biased leaks against the prime minister and his wife must be curtailed."

The Netanyahu couple is accused of receiving illicit gifts from Milchan as bribes. They are currently under investigation in what the police refer to as Case 1000.