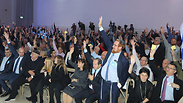 Likud Central Committee
Photo: Motti Kimchi
Prime Minister Benjamin Netanyahu's Likud party unanimously urged legislators in a non-binding resolution on Sunday to effectively annex Israeli settlements in the West Bank, disputed land that Palestinians want for a future state.
By enacting civilian law over settlements, the move could streamline procedures for their construction and expansion. That land is currently under military jurisdiction and Israel's defense minister has a final say on building there.
The settlers are subject to Israeli civilian law.
"We will now promote the recognition of our sovereignty of the Jewish settlements in Judea and Samaria ... We must begin to enact this sovereignty, we have the moral right and obligation towards our settler brothers," Public Security Minister Gilad Erdan told a special meeting of 1,500 members of the Likud's Central Committee.
Knesset Speaker Yuli Edelstein urged US President Donald Trump to "continue the backing you are giving to historical justice and truth! Support the connection of Jerusalem to Ma'ale Adumim. There is no move more necessary and vital than that."
"A year ago we signed a bill proposal to apply Israeli sovereignty to Ma'ale Adumim in order to create territorial contiguity between it and Jerusalem. There are those who seek to divide Jerusalem; we intend to expand it," Edelstein added.
Labor and Welfare Minister Haim Katz, who also serves as the chair of the Likud Central Committee, lamented the fact that "50 years after liberating our ancestor's land Judea and Samaria, Greater Jerusalem, the Cave of the Patriarchs, Rachel's Tomb and the Western Wall ... some half a million Israeli citizens who fulfill all of their duties—in taxes and military service—are discriminated against in construction and personal security."
"Judea and Samaria and Greater Jerusalem ...are an inseparable part of the land of Israel and will remain so forever," Katz added.
Education Minister Naftali Bennett, the leader of the pro-settlement Bayit Yehudi party, welcomed the decision, saying, "We've passed another stage in disengaging from the dangerous idea of a Palestinian state, which brought with it only security damage and boycotts against Israel. I call on the Yesh Atid party to join this important initiative and renounce the idea of an ISIS state on Highway 6."
On the other end of the political spectrum, Zionist Union leader Avi Gabbay criticized the decision. "The Alon Moreh voters have completed their takeover of the Likud and are further stressing the difference between the worldview that believes in annexing millions of Palestinians, and our worldview that believes in separating from them."
"The Likud has completed the task of sabotaging the diplomatic peace process, which Trump began with the fake declaration of Jerusalem as capital," said Meretz leader MK Ilan Gilon.
The Palestinian terror group Hamas, which controls the Gaza Strip, said "the Likud's decision to annex the West Bank is the continuation of the violation of Palestinian rights—done under American auspices—and will lead to more resistance."
Palestinian President Mahmoud Abbas's Fatah faction, which controls some areas of the West Bank, said, "The Likud decision to force Israeli control on the occupied West Bank results in the end of what was left of the peace process."
Netanyahu is not bound to follow the resolution. He did not attend the meeting, which attracted several hundred delegates including ministers, legislators and party officials. The Likud Central Committee is the party's governing body.
At least two previous Likud Central Committee decisions have been ignored by party leaders:
In 2002, it voted against the creation of a Palestinian state, but then-Prime Minister Ariel Sharon said he would act as he saw fit, while Netanyahu in 2009 voiced conditional support for the establishment of a Palestinian state in a landmark speech.
Political commentators said the decision might bolster right-wing support for Netanyahu, who could seek a public mandate in an early election as he awaits possible criminal indictments against him on corruption suspicions. He denies wrongdoing.
Although parliamentary elections are not due until November 2019, the police investigations in two cases of alleged corruption against Netanyahu and tensions among partners in his governing coalition could hasten a poll.
Most countries view settlements that Israel has built on land captured in the 1967 Six-Day War as illegal. Israel disputes that and cites biblical, historical and political links to the West Bank, as well as security interests.
About 400,000 settlers and 2.8 million Palestinians live in the West Bank. The Palestinians want to establish a state in the West Bank and Gaza Strip with east Jerusalem as its capital.
In 1981, Israel enacted civilian law on the Golan Heights, territory captured from Syria in 1967, a de-facto annexation of the strategic plateau. The move has not won international recognition.
Israeli settlements have been one of the main points of contention in Israeli-Palestinian peace talks that have been frozen since 2014. Efforts by US President Donald Trump's envoys to restart them have not yet shown any progress. Trump this month recognized Jerusalem as Israel's capital, reversing decades of US policy.