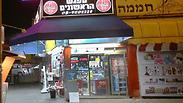 Convenience store
Photo: Avi Mualem
The Modi'in-Maccabim-Re'ut city council amended a municipal bylaw Wednesday evening that will allow for the operation of limited commerce on Shabbat, making it the third city to attempt to outmaneuver national legislation that would grant the interior minister the authority to cancel such bylaws.

Led thus far by Rishon LeZion and Givatayim, Modi'in joined the scramble to ensure that some shops remain open on the weekend despite the fact that the cotroversial supermarket bill is scheduled to be brought before the Knesset next week.

Mayors of Holon, Ramat Gan and Herzliya are also working on similar legislation in a bid to quash efforts by Interior Minister Aryeh Deri to put a stop to commerce on Shabbat, rendering his proposed bill inapplicable to their cities in the event that it is ratified.

Bylaws that currently exist in Modi'in permit cultural and recreational activities on Shabbat but all commerce is prohibited. Despite the bylaw, there are four convenience stores that have permission to operate seven days per week.

The bylaw amendment was intended to preserve the status quo and allow for the opening of one store per neighborhood and in uninhabited commercial areas such as the Yishpro Center Shopping.

The religiously mixed city of Mod'in is also home to Israel's Ashkenazi Chief Rabbi David Lau and numerous Orthodox communities.

Haredim and other ultra-Orthodox strands, who sit as a minority on the city council, were up against the Mayor Haim Bibas, who is also a close associate of Prime Minister Benjamin Netanyahu and a central Likud figure.

Moreover, Bibas serves as chairman of the Union of Local Authorities and leads the opposition to supermarkets bill on the national level and has even threatened to petition against it at the High Court of Justice.