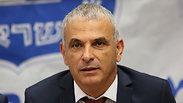 Finance Minister Kahlon
Photo: Alex Kolomoisky
Finance Minister Moshe Kahlon surprised fellow government ministers on Sunday by proposing to annex the main Israeli settlement blocs in the West Bank in light of the freeze in the peace process.

"I think it's time to annex the settlement blocs," Kahlon said during the weekly government meeting.

Education Minister Naftali Bennett of the pro-settlement Bayit Yehudi party, who wasn't sure whether Kahlon was being serious or not, said in response: "Friends, I suggest we vote on Kahlon's proposal."

The government did not, however, discuss Kahlon's proposal as it was not on the meeting's agenda.

The finance minister apparently views the move as a way to push for the resumption of peace talks by presenting a moderate position compared to a resolution recently adopted by the Likud Central Committee's resolution urging the government to fully annex the West Bank and the Jordan Valley. While the resolution is symbolic and non-binding, it still indicates the general mood in the movement.

While Kahlon seeks to apply Israeli law to settlement blocs, he stressed he is not entirely against conceding land as part of a peace agreement.

He believes annexing the settlement blocs will send out a message to the Palestinians that Israel is willing to negotiate for the rest of the West Bank—meaning, the possibility of evacuating isolated settlements.

Kahlon's office confirmed the report.