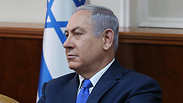 PM Netanyahu
Photo: Alex Kolomoisky
Netanyahu slams 'crossing of red line' in son's audio leaks
PM instructs Justice Minister to launch an investigation into the legal admissibility of leaks broadcast by Channel 2 News of recordings of his son discussing gas deals and talking about his experiences with two other friends at a strip club; Minister Regev backs PM, saying 'today it is Yair, tomorrow it could be anyone.'
Prime Minister Benjamin Netanyahu told Justice Minister Ayelet Shaked Thursday that her ministry should be looking into the legality of the leaking of recordings Monday—which he said "crossed a red line"—of a conversation between his son Yair and the son of gas mogul Kobi Maimon.
In the conversation that was recorded sometime in 2015, Yair can be heard telling Ori Maimon that he has to "hook him up. Bro, my father cut a great deal for your father. Fought for it in the Knesset, bro."
The ignominious recordings brought shame on the Netanyahu family as Yair, Maimon and another friend, Roman Avramov, could be heard on their way to the strip club making salacious and disparaging comments about women, recounting their night and the many hundreds of shekels they spent on strippers.
With his comments to Shaked in a Cabinet meeting to discuss the state budget, Netanyahu also raised the possibility of formulating legislation to prevent similar leaks. Channel 2 News that aired the conversations, refused to comment on the matter.
After addressing Shaked, Netanyahu turned to Minister Miri Regev and instructed her to launch an investigation into the recorded leaks. "We cannot be hostages. They threaten us and then brandish it in front of the media. We cannot become a punching bag that at any moment can be beaten," he said.
Backing the prime minister's corner, Regev told Shaked that her ministry had a duty to formulate a method of protecting public officials and their associates and family from infringements of privacy.
"It can't be that there isn't a system that protects us. The time has come that your justice system starts acting on the matter and protects us. Today it happened to Yair Netanyahu and tomorrow it will happen to Regev, Kahlon, the prime minister and anyone else," Regev complained.
Her comments earned Netanyahu's gratitude, who emphasized that the leaks constituted "the crossing of a red line on security and no less than the crossing of lines from a media point of view."
Shaked and Tourism Minister Yariv Levin concurred that the media's broadcast of the recordings stood on the border between what was acceptable and unacceptable journalism and agreed that legislation had to be considered to protect ministers and their families from similar encroachments on their privacy.
The ministers were also joined by Minister Yuval Steinitz, who stated that even "assistants and secretaries cannot be trusted."