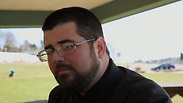 The 9/11 terror attacks on the World Trade Center would never have occurred had it not been for Jews, according to one of the leading figures of a United State's neo-Nazi movement.
As the United States experiences a spike in anti-Semitic incidents, Israeli journalist and former politician Nitzan Horowitz paid a visit to the country where he conducted an interview with Matthew Heimbach, a far-right white nationalist who advocates a vehemently anti-Semitic agenda.
Matthew Heimbach, a neo-Nazi who wants US rid of Jews
Leader of The Traditionalist Worker Party (TWP), Heimbach told Horowitz in the interview that Jews are responsible for just about all of America's ills and shortcomings.
Jews, who he and his cronies say "should go home to Israel" and are not American, can be blamed for "working to enslave and displace all of our peoples" through their alleged domination of Wall Street, are "hostile" to American communities and family and are responsible for the US's trillion-dollar financial deficit.
Moreover, Heimbach posits that the US's backing of "Zionism" led to the deadliest attack on American soil on 9/11 and therefore the loss of thousands of American soldiers in ensuing wars.
Arabs would not hate the US, and no wars would occur with Middle Eastern countries, Heimbach continues in his vitriolic diatribe, if it were not for American support of Israel.