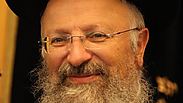 Rabbi Shmuel Eliyahu
Photo: Emanuel Maimon
Safed rabbi calls on IDF chief to resign over women in combat roles
Rabbi Shmuel Eliyahu rationalizes comments by Rabbi Shlomo Aviner, who barred IDF service for religious-Zionist men if they're placed in a unit with women: 'It means the situation is quite dire... Eisenkot must wake up, and the prime minister should tell him to resign.'
Safed Rabbi Shmuel Eliyahu on Wednesday called on IDF Chief of Staff Gadi Eisenkot to resign, prompting a wave of support to the army's commander from other religious-Zionist rabbis.

Rabbi Eliyahu's attack on the IDF chief came in the wake of comments made by Rabbi Shlomo Aviner, who determined that "until there is complete separation between men and women in the IDF—it is forbidden to enlist."

Eliyahu rationalized Aviner's comments, saying "if (Aviner) said such a statement, we must consider what brought him to think so… It means that the situation is quite dire... something was damaged in the army."

The Safed rabbi told Army Radio there was "a decrease in motivation to serve lately," attributing it to steps taken in recent years to integrate women into a wider range of roles in the army, including combat units.

"Rabbi Aviner is a responsible person, with thousands of students on the front lines," Eliyahu explained. "If he brought himself to utter such a statement, then Eisenkot must wake up, and the prime minister should tell him to (resign). This is a call on the government: if you do not want the army to deteriorate further, Eisenkot should pack his bags and go home."

Outraged by Eliyahu and Aviner's comments, a group of rabbis, including such prominent names as Rabbi Haim Drukman of the Or Eyzion Yeshiva, Rabbi Eli Sadan of the prestigious Eli pre-army prep school and Rabbi Yakkov Madan of Yeshivat Har Etziyon, sent a letter of support to Eisenkot.

"We want to thank you for the many steps you took to strengthen the IDF as the people's army, so that each soldier could feel comfortable and observe his faith and beliefs. Your efforts are deserving of praise," wrote the rabbis. "We are proud to educate our students to do everything to integrate into the IDF and strive for the elite units, and we are confident you will continue the important steps you have taken in the last year."

Rabbi David Stav, the director of Tzohar, a pragmatic rabbinical group, denounced Rabbi Eliyahu's statements against the chief of staff. "Anyone can criticize the IDF chief, as long as the criticism is to the point. However, nobody, and certainly not a rabbi, should deal with such pettiness, definitely not when it comes a man who has dedicated his whole adult life to the security of the State of Israel," Stav said.

"Sometimes it seems that there are those who desire to harm the delicate relationship between religious and irreligious (citizens). Most of the religious and irreligious want to see a society in which people treat each other with respect and sensitivity," he added.

Defense Minister Avigdor Lieberman called on Aviner and Eliyahu to take back their comments. "I strongly condemn the blatant interference of outside elements, including rabbis, even well respected ones, in military matters. This is wrong and seriously hurts state security and national resilience. The IDF is not a feminist or a chauvinist army. All of its considerations are strictly operational," he said.

Bayit Yehudi chairman, Education Minister Naftali Bennett, condemned Aviner and Eliyahu's comments as well. "I completely reject any call not to enlist in the IDF and the impertinent call to fire the IDF chief. Such calls come from honest but incorrect anxiety among certain groups, who think the IDF has decided to adopt a radical, liberal, feminist agenda at the expense of operational capability and victory in war," he said.

Zionist Union leader Avi Gabbay called for sanctions against the rabbis in the form of cutting their state funding. "Rabbis who don't bring people together are not really rabbis," Gabby asserted. "It's time we allow them to make their living independently, and not from state budgets."

The Israel Women's Network also criticized the comments made by Aviner and Eliyahu. "The ugly trend, brought about by Rabbi Aviner, of not wanting to see women in uniform, women such as A. who was just appointed aviation squadron commander in the IAF, can drag us all into dangerous territory, to the point of draft refusal. This is a struggle for our society, for equality and democracy and for political power. The state envisioned by rabbis Aviner and Eliyahu, who receive a state salary, is one that has no place for women," the organization said in a statement.

"Since his appointment, Chief of Staff Eisenkot has met multiple times with rabbis of the religious Zionist sector, including the most stringent and extremists among them. Rabbinic influence over the IDF is political and it is unacceptable. The results are visible in the problematic changes to co-ed service whereby officers and non-commissioned officers may request to not be placed in mixed units, just as Rabbi Aviner called for. Surrender to fanatic rabbis means harming the status of women in the IDF. The Women's Network will continue to advance the struggle for equality in army service and against surrendering to rabbis that want women's status in the army to regress," said the lobby.
MK Smotrich comes out against women in combat roles
Another controversy regarding women in the IDF was caused by Bayit Yehudi MK Betzalel Smotrich who, commenting on the appointment of a female air squadron commander, said: "There are few women who are fit for men's positions, and they are extraordinary. I wish her success, but I have reservations regarding the whole campaign surrounding the issue, as if it is (an actual) phenomenon.

"We can count on two hands all the female pilots in the Air Force, and that is because naturally, there are men and women in this world and each have different physiology and separate roles they are fit for. The attempt to obscure and deny this most basic fact is in my eyes quite funny. The rule is that there exist in this world roles that befit men and roles that befit women.

"Woe unto us if we all become women or we all become men. The world requires this balance. Everyone should do what is good and right for him. As a society though, I do not believe that it is the correct model, and nature affirms this. There are no women in the IDF's most elite unit, nor in the men's championship football team. Factually, there are less than five percent female pilots, as most are men. That is how it will be in a thousand years as well."



Prime Minister Benjamin Netanyahu criticized Smotrich's remarks and the call by Rabbi Eliyahu to fire the military commander. "I am proud that we have the first female air squadron commander. Not only will I not condemn the Chief of Staff, I commend him and the Air Force Commander. I expect more such appointments," said Netanyahu.

Galia Wallach, the Director of Na'amat, an Israeli women's organization affiliated with the Labor Zionist Movement, lamented that "On the day a woman shatters the glass ceiling and is appointed commander of an air squadron, Smotrich and Aviner come along to remind us where it is we are living. The attempts at discrimination, exclusion and religionization continue, as do the attempts by extreme religious elements to hurt and thwart welcomed achievements both inside the IDF and out of it. Women can and should serve in any unit in the IDF and are worthy of any role. Smotrich, Aviner and their ilk are the ones who need to get out."

The IDF, meanwhile, stressed Wednesday the promotion of women in the army is done based on operational needs and professional considerations, and not merely for the sake of gender equality.

Amir Alon, Yoav Zitun, Itamar Eichner, Yuval Karni and Goel Beno contributed to this story.