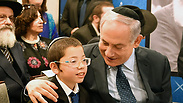 Netanyahu with 11-year-old Moshe Holtzberg
Photo: AFP
Prime Minister Benjamin Netanyahu visited a Jewish center in Mumbai on Thursday and unveiled a memorial to 166 people who were killed by militants who rampaged through the Indian city in a three-day siege in 2008.

Netanyahu was accompanied by Moshe Holtzberg, a boy whose parents were among six people killed at the Chabad Center during the attack.

The Israeli prime minister said light would spread from the memorial to make the world a better place and addressed Holtzberg directly.

"The Jewish People have been with you throughout and there is a good reason for this. What happened here expressed many things. It expressed hatred of Israel and love of Israel. Your dear parents' love of Israel, that of the Chabad emissaries here and around the world, which embraces every Jew and has a home for every Jew everywhere including here in the heart of Mumbai," Netanyahu said at the inauguration ceremony.

"Love of Israel and hatred of Israel – the reprehensible murderers who, we regret, claimed their victims, did not claim this boy because of love of Israel, of a splendid woman, Sandra," he added in reference to Holtzberg's nanny, Sandra Samuel, also present, who saved Moshe who was two years old at the time of the attack.

"This place symbolizes both hatred for Israel and love for Israel—hatred of Israel by the terrorists, against tireless love for Israel by the Chabaniks who spread light around the world," Netanyahu continued.

Samuel found Moshe by his parents' bodies. He left for Israel after the attack and returned to India for the first time on Tuesday.

Turning to Samuel, Netanyahu asked her to stand as she received a rapturous round of applause from those in attendance.

"We have Sandra here who also symbolizes love for Israel inherent in people," Netanyahu said. "We know that with the force of life and our love of life, we have overcome all obstacles and the Jewish People lives. The Jewish People will continue to prosper thanks to the strength of their faith, their love and their actions which find expression in this house and in the house that Moshe will establish, with the help of G-d. I would like to thank you all for your magnificent spirit; to the grandparents—well done. The Jewish People live!"

Speaking after Netanyahu, Holtzberg, 11, also delivered his remarks, thanking the prime minister for bringing him back to India.

"My heart beats, my heart is moved, to return to my parents' home, the Chabad House that has been rebuilt and refurbished. Here I was born, and here I spent two years. I have absorbed my beloved parents' sense of mission," the terror survivor began.

"To leave the Promised Land on behalf of the Rebbe. From the lowest of places. The house that is open to everyone, to Jews from around the world, who sought a warm corner. My beloved parents did what they did here for the Land of Israel."

Moshe then recounted stories he had heard about his childhood. "My parents bought me all the toys in the world. My mother etched a line on the wall each time she measured my height. My father built for me an amazing kitchen out of wood, out of his love for me," he told his listeners.

Turning to the prime minister, Moshe said he was grateful to God "for giving us such a wonderful prime minister, who invited us to join him on his visit to India. I am returning home, I am returning to my room after a nine-year separation. On this festive occasion, I would like to thank God. Praised are you Lord our God who did a miracle for me in this place."

Not forgetting his grandparents and Sandra, Moshe added: "Today I live with my grandparents in Afula and learn in a Chabad school in Migdal Haemek. I thank you for everything. I bless my grandparents and thank Sandra who saved me—praise God."

"I also want to thank Rabbi Yisroel and Chaya Kozlovsky—the emissaries who today serve the Chabad House and continue the ways of my parents in the best possible way."

The Chabad Trust of India is converting parts of the building into a memorial for the victims of the attack, which also targeted a main railroad station, posh hotels and a cafe. India has blamed a Pakistan-based militant group.

Samuel was given Israeli citizenship and accompanied Moshe and his relatives back to Mumbai.

His parents were emissaries of the Chabad movement living in Mumbai. Chabad is a Hasidic group known for its religious outreach programs serving Jews worldwide.