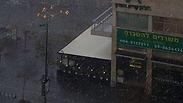 Storm whips Israel, winds reach speeds of 120 kph
Authorities block roads to traffic as rains flood streets and powerful overnight winds continue into Friday, slicing through trees and damaging utility poles; thin snow blanket covers areas of the north, but storms expected to relent throughout the day.
Roads were flooded, trees were chopped down and electrical utility poles were damaged overnight Thursday as sharp winds cut across Israel and heavy rains drenched the country, forcing authorities to close off a number of roads to traffic.

Tel Aviv was hit by the fastest winds which reached speeds as high as 120kph, while Dalton Moshav near Safed in northern Israel was soaked with 45mm of rain.

Drivers battle with floods (צילום: יהודית קלר, אחיה ראב"ד יונתן רחמן אתר החרמון, איתן אלחדז )

Small quantities of snow also fell in the Golan Heights and the Galilee, creating a thin white blanket on the region's streets and roads. Overnight, 10cm of snow fell in the lower Hermon area, and 15cm in the upper area.

Rapid winds also whipped the area as temperatures in the lower Hermon plummeted to zero degrees celsius.

Snow falls in the north (צילום: אביהו שפירא)






With the stormy downpour, the Kinneret registered a meager increase in its water levels of a centimeter but byu the morning, streams leading into the lake were flowing, albeit not at a fast pace.

Floods wash Israel's streets (צילום: נתנאל וילף, דנה פארן, עידו ארז, ליהיה קרופניק, אתר החרמון)

Heavy rains are forecast to continue to pound Israel's streets and stormy winds of up to 90 kph are expected to continue their sweep throughout most of the country. Snow is also expected to continue to fall throughout the morning in the Hermon, the northern Golan Heights and possibly on peaks in the Galilee.

Minor havoc had been wreacked on some parts of the country's electric infrasructure by the morning, with electricity companies reporting power outages in Ashkelon, Ashdod, Rehovot, Rishon LeZion and other cities.

Workers immediately went into action at the crack of dawn to fix the damaged utility poles crippled by the storm that sliced through their cables.

Weather forecasts also point to the possibility of flash floods in the Yehudah Desert, the Dead sea and in the Negev region.

Weatherman Nahum Malik from Meteo-Tech said that while the peak of the storm had passed and taken its toll overnight, the inclement weather conditions had not yet fizzled out completely.

"Rain will continue to fall from the north to the Negev, before gradually petering out. Winds remain strong but will later weaken. There's still a fear of flooding," Malik said, adding that by the afternoon, conditions will begin to calm.

Ahiya Raved, Raanan Ben Zur, Ilana Curiel and Itay Blumenthal contributed to this report.