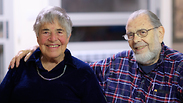 Two of the Holocaust survivors to sign the appeal
Photo: Tal Shimoni
Thirty six Holocaust survivors have penned an open letter to Prime Minister Benjamin Netanyahu in which they urged him to abort the planned expulsion to Rwanda of tens of thousands of Sudanese and Eritrean asylum seekers.

"We, who know precisely what it's like to be refugees, to be homeless and bereft of a state that preserves and protect us from violence and suffering," the survivors wrote in the letter that was published Thursday, "cannot comprehend how a Jewish government can expel refugees and asylum seekers to a journey of suffering, torment and death."

Each of the petition's signatories stated the place where they themselves were refugees as children. The letter marked the Holocaust survivors' joining of the "Stop the Expulsion" grassroots movement put together by students over the past week.

The signatories further cited in their letter a quote by the late author and Holocaust survivor Elie Wiesel, given before the United Nations General Assembly on the 60th anniversary of the liberation of Auschwitz, where he himself was incarcerated.

"The past is the present, but the future is still in our hands, yours as well as mine," he said. "Those who survived Auschwitz advocated hope, not despair. The question I have is, 'Will the world ever learn?'"

The Holocaust survivors then appealed directly to Netanyahu, saying, "With these words, we—Holocaust survivors who then became refugees—ask you, the prime minister of Israel, to learn these lessons and not deport from Israel those same people seeking refuge in our own country."
'We are obliged to stave off indifference'
"The future is not yet decided! And you have the opportunity to change it!" the survivors exhorted the prime minister. "Especially as Jews, who have had the world turn its back on us in our most dire hour, we have a special duty to stave off indifference and prevent the asylum seekers' expulsion. The state must provide them with fair shelter and not send them to their deaths in a foreign land.

"The State of Israel under your tutelage has made it a goal to remind the world of the lessons of the Holocaust, and so we ask you: stop the process! You alone have the ability to make an historic decision and show the world that the Jewish state cannot stand for suffering and torture of people under its care. Do the Jewish thing, as (former prime minister) Menachem Begin did when he took in refugees from the Vietnam War, and allow asylum seekers to live!"

At their missive's conclusion, the Holocaust survivor then quoted a verse from Deuteronomy, "Thou shalt not deliver unto his master the servant which is escaped from his master unto thee. He shall dwell with thee, even among you, in that place which he shall choose in one of thy gates, where it liketh him best."

Giora Amir, who was born in Slovakia and was a refugee in Hungary, is one of the 36 Holocaust survivors to sign the letter. In a Ynet studio interview, he explained his rationale for doing so. "It is both a personal and a collective stance. The personal stance stems from the fact I was a refugee myself, and so I know what that's like," he said.

"Then there's the collective stance. I'm part of the people living in Israel and remember how we took in Vietnamese refugees, and Israel was much poorer and much weaker then. Today it's strong and rich, and can definitely afford to show mercy to people and not send them to an apparently harsh fate."

Amir also commented on the fact that many, including a rabbi called David Stav, were outraged by the comparison between Holocaust refugees and "work migrants."

"A refugee is a refugee," Amir said. "He is without a home, he fled, for whatever reason, from his home, which is precisely the situation we were in. We were without citizenship, without rights, and the regime in power could do with us what it willed, and it threatened to do just that."
'We are obliged, as Jews and former refugees, to try and help'
The Holocaust survivor added that Israel and its prime minister's promise to only deport migrants to a third country where their lives would not be in danger did little to ameliorate his concerns.

"I don't believe our prime minister, not a word he says," Amir exclaimed. "I saw him stating at Bar Ilan (University) his agreement and trust in the two-state solution and I see him today.

"I read in the paper that the (third) country is denying the prime minister's statements, turning to refugees and saying, 'If you are forced to come here, we will not accept you.'

"I'm asking the prime minister to intercede with the minister of the interior, intercede with his judgment, and for these refugees to be welcomed here, at least until the danger to their lives passes. It's the most humane thing we can, and must, do, both as Jews, former refugees and people, human beings."

Stop the Expulsion is a civil society group that started out with several dozen university students objecting to expelling the Sudanese and Eritrean population from Israel.

The group, which has since gathered momentum and absorbed hundreds of new members, including Holocaust survivors, calls for an "efficient and immediate solution both for the refugee population and for the distress of south Tel Aviv residents and other neighborhoods affected by the lack of government policy (on the matter)."