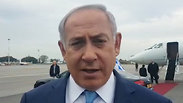 Prime Minister Benjamin Netanyahu warned Monday morning of the Iranian attempt to turn Lebanon into "one giant missile site" ahead of his trip to Moscow to meet with Russian President Vladimir Putin at the Kremlin.

Netanyahu said he will discuss with Putin "Iran's effort to turn Lebanon into one giant missile site, a site for precision missiles against the State of Israel, which we will not tolerate."

They will also talk about "Iran's relentless efforts to establish a military presence in Syria, which we strongly oppose and are also taking action against," the prime minister said.

"We meet periodically in order to ensure the military coordination between the IDF and the Russian forces in Syria; as of today this has succeeded and it is important that it continue to succeed," he continued. "So far, this has been a success, and it's important it continues being a success."

Mossad Director Yossi Cohen, who joined the prime minister's previous visits to Russia, will not be traveling to Moscow this time.

Instead, Netanyahu will be accompanied by Military Intelligence Directorate (MID) chief Maj. Gen. Hezi Levy, as part of the prime minister's desire to focus on the military cooperation between the IDF and the Russian army.

In addition to the MID chief, Netanyahu will be joined by Minister Ze'ev Elkin, National Security Advisor Meir Ben-Shabbat and the Military Secretary to the Prime Minister, Brig. Gen. Eliezer Toledano.

While in Moscow, the prime minister will also attend the opening of an exhibit on the 1943 Sobibor uprising at the Jewish Museum and Tolerance Center.

Netanyahu will return to Israel Monday night. In his absence, Science Minister Ofir Akunis will serve as acting-prime minister, a first for Akunis.

The Israeli prime minister and the Russian president last met in Putin's summer home in Sochi in August. At the time, Netanyahu told his host that Iran's growing role in Syria poses a threat to Israel, the Middle East and the world. He also warned that Tehran was on its way to take over Iraq and Yemen as well.

"We are all defeating ISIS in a concerted international effort, and that is welcome. What is not welcome is Iran moving in everywhere ISIS moves out," Netanyahu also said.