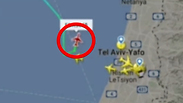 A FedEx cargo plane preparing for landing in Israel early Tuesday morning from Athens to Ben Gurion International Airport narrowly avoided a crash with an executive plane carrying UN workers after successfully conducting an emergency maneuver.

The incident took place after the plane carrying the UN workers took off from the Sde Dov Airport in Tel Aviv and followed a flight route that was not approved by the flight operations tower. The Ministry of Transport launched an investigation into the incident.

Emergency maneuver

The two aircraft were travelling toward each other at 700 kph a mere few meters from one another, according to data at the Ben Gurion Airport control tower.

The close collision occurred at 6:30am on Tuesday approximately two kilometers from the Tel Aviv coast at an altitude of 3000 feet.

The pilot of the cargo plane, a Boeing 757, spotted the Beechcraft King Air plane heading directly toward it and managed to avert what would likely have been a disastrous collision by pulling off an emergency zig zag maneuver and rapidly altering his altitude.

According to information obtained by Ynet, the cargo plane received permission to perform a standard landing at Ben Gurion Airport and prepared to do so in accordance with standard procedures.

The UN plane however, deviated from the guidelines and flight route approved by the control tower before it took off.

After departing from Sde Dov Airport, the UN aircraft was supposed to turn north and only in Herzlyia to swing south and continue along the Sharm El Sheikh route.

The pilot failed to heed the instructions and broke south immediately after the takeoff, placing the incoming plane in peril. Operators in the control tower immediately reported the "most serious" incident to investigators from the Transportation Ministry.