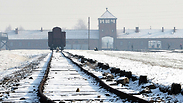 Auschwitz death camp
Auschwitz extermination camp (Photo: AFP)
Poland advances draft Nazi death camp law
Backed by 57 senators, opposed by 23, bill penalizing anyone who uses phrases such as 'Polish death camps' to refer to the killing sites Nazi Germany operated in occupied Poland during World War II clears second hurdle before being sent to Polish president for final signature; 'We want to send a clear signal to the world that we won't allow for Poland to continue being insulted.'
Polish lawmakers approved draft legislation on Thursday penalizing suggestions of any complicity by Poland in the Nazi Holocaust on its soil during World War Two, defying criticism by Israel and the United States.

The proposal has triggered a diplomatic spat between Israel and Warsaw's conservative government since its initial approval in the lower house of parliament last week, with Prime Minister Benjamin Netanyahu comparing it to an effort to change history.

The US State Department urged Poland on Wednesday to re-evaluate the draft law, expressing concern about consequences on Warsaw's relations with the United States and Israel if the draft becomes law.

Under the proposed legislation, violators would face three years in prison for a mention of "Polish death camps", although scientific research into World War Two would not be constrained.

Poland has fought against the use of the phrase in some Western media for years, arguing it suggested the Polish state was at least partly responsible for the camps, where millions of people, mostly Jews, were killed by Nazi Germany.

The camps were built and operated by the Nazis after the 1939 invasion of Poland, home to Europe's largest Jewish community at the time.

"We have to send a clear signal to the world that we won't allow for Poland to continue being insulted," Patryk Jaki, a deputy justice minister, told reporters in parliament.

The Senate voted on the draft bill in the early hours on Thursday and it will now be sent to President Andrzej Duda for a final signature.



Poland's PAP news agency reported 57 senators voted for the draft bill, with 23 against and two abstentions.

The Polish government has said the legislation aims to stop the Polish people or state being blamed for Nazi crimes.

The United States said, however, the legislation "could undermine free speech and academic discourse. We all must be careful not to inhibit discussion and commentary on the Holocaust".

"We believe open debate, scholarship, and education are the best means of countering inaccurate and hurtful speech," State Department spokeswoman Heather Nauert said in a statement.

"We are also concerned about the repercussions this draft legislation, if enacted, could have on Poland's strategic interests and relationships ... We encourage Poland to re-evaluate the legislation," Nauert said.

It wasn't too long before a string of Israeli lawmakers began expressing outrage over the Polish decision, with Housing and Construction Minister Yoav Galant (Kulanu) slamming the bill as "Holocaust denial."

Leader of the Hatnua political faction Tzipi Livni described Polish conduct as "intolerable and a double spit in the State of Israel's face—both on the country of the Jewish people and the prime minister who declared that agreements had been reached with the Poles (in the event that they actually were)."
PAINFUL DEBATE
Poland has gone through a painful public debate in recent years about guilt and reconciliation over the Holocaust.

Research showing some Poles had participated in the Nazi German atrocities shook the belief of many that the nation was only a victim of World War Two and had conducted itself honourably. Many still refuse to accept the findings.

Poland was home to some 3.2 million Jews before the war. Germany attacked and occupied Poland in 1939 and later built death camps, including Auschwitz and Treblinka, on Polish soil. Most of the Jews who lived in Poland were killed by the Nazi occupiers.

According to figures from the US Holocaust Memorial Museum, the Germans also killed at least 1.9 million non-Jewish Polish civilians during World War Two.

The ruling Law and Justice (PiS) party, a socially conservative grouping with a nationalist agenda, has reignited debate on the issue as part of a campaign to fuel patriotism since sweeping into power in 2015.

"We, the Poles, were victims, as were the Jews," former PiS prime minister Beata Szydlo said on Wednesday. "It is a duty of every Pole to defend the good name of Poland. Just as the Jews, we were victims."

The Israeli Foreign Ministry summoned Poland's charge d'affaires on Sunday to object to the bill.