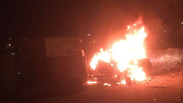 The Israeli's vehicle was burned to ash
Israeli enters Abu Dis and is attacked, his vehicle is torched
59-year-old Tel Aviv resident enters Palestinian town near Ma'ale Adumim by mistake; Palestinian security forces defend him and liaise with IDF forces to coordinate his extraction; 200 Palestinians riot and torch his vehicle when they learned of his presence there; Israeli security forces extricat man, who was lightly wounded in incident.
An Israeli citizen drove into the Palestinian town of Abu Dis near Ma'ale Adumim Friday evening and was attacked by Palestinians, who torched his car and lightly wounded him.

The 59-year-old Israeli man from Tel Aviv went to Wadi Qelt to ride horses and got lost on his way back, ending up in Abu Dis near the Al-Quds University campus, where several Palestinians noticed him and started hurling stones at him.

Palestinian security forces who arrived at the scene protected him and contacted the Jerusalem area's District Coordination and Liaison Office in order to hand him over to the IDF and Civil Administration.

The Israeli was then taken to the Palestinian security forces' local station in Abu Dis to await extraction. When the Palestinian forces disembarked towards the Israeli forces in order to hand him over, a protest broke out, in which some 200 Palestinians rioted and threw rocks.

The Palestinian rioters also completely burned down the Israeli's car.

Both the Israeli and the Palestinian forces had to ensconce themselves in one of the university's buildings until the Israeli forces arrived to extricate him.

Two of the Palestinian security forces personnel were wounded in the incident.

The Israel, who suffered a head injury among other things, was taken to the Shaare Zedek Medical Center in Jerusalem for treatment.