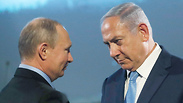 Putin and Netanyahu meet in Moscow last month
Photo: EPA
Netanyahu to Putin: Israel will act against any Iranian attempt against us
Prime Minister Netayahu talks to Russian president, US secretary of state about Saturday's events on the northern border; 'I reiterated our right and our duty to defend ourselves against aggression against us from Syria territory,' he says.
Prime Minister Benjamin Netanyahu spoke to Russian President Vladimir Putin and US Secretary of State Rex Tillerson on Saturday evening after an Israeli F-16 jet retaliating against an Iranian drone infiltration was downed by Syrian aerial defense.


"I have been warning for some time about the dangers of Iran's military entrenchment in Syria. Iran seeks to use Syrian territory to attack Israel for its professed goal of destroying Israel," Netanyahu said at a press conference Saturday evening.

"This morning, Iran brazenly violated Israel's sovereignty. They dispatched an Iranian drone from Syrian territory into Israel," he said. "This demonstrates that our warnings were 100 percent correct. Israel holds Iran and its Syrian hosts responsible for today's aggression. We will continue to do whatever is necessary to protect our sovereignty and our security."

While stressing that "Israel seeks peace," the prime minister said that "We will continue to defend ourselves with determination against any attack against us and against any attempt by Iran to establish a military presence against us in Syria or anywhere else."

On his conversation with Putin, the prime minister said, "I reiterated to him our right and our duty to defend ourselves against aggression against us from Syria territory. We agreed the security coordination between our armies will continue."

About his talk with Tillerson, Netanyahu said "I spoke to the American secretary of state about the developments of the last 24 hours and additional developments in the region."

Meanwhile, the Pentagon issued a statement of support in Israel. "Israel is our closest security partner in the region and we fully support Israel's inherent right to defend itself against threats to its territory and its people," Pentagon spokesman Adrian Rankine-Galloway said.

"We share the concerns of many throughout the region that Iran's destabilizing activities that threaten international peace and security, and we seek greater international resolve in countering Iran's malign activities," Rankine-Galloway said.

Rankine-Galloway also stressed that "The Department of Defense did not participate in this military operation."

Immediately following the incident, Israel sought Russia's urgent intervention to prevent further escalation on its northern frontier, making it clear to the Russians it considered all of its warnings of Iranian entrenchment in Syria to have come to pass.

The Russians were also told that once again as predicted by Israel, Iran was destabilizing the region—counter to Russia's own interests.

Moscow, for its part, said it was seriously concerned by the latest developments in Syria and called on the sides to exercise restraint and avoid an escalation of the situation, the Russian Foreign Ministry said on Saturday.

"We urge all sides to exercise restraint and to avoid any actions that could lead to an even greater complication of the situation," the ministry said in a statement. "It is necessary to unconditionally respect the sovereignty and territorial integrity of Syria and other countries in the region."

Reuters contributed to this report.