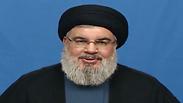 Hezbollah chief Nasrallah
Hezbollah: US dishonest broker in Israel-Lebanon gas dispute
Threatening confrontation over offshore drilling in disputed waters, Hezbollah chief says US favors the Israel in mediation over the issue, calling them 'devils' and urging Lebanese government officials to stand their ground and demand to be heard.
The leader of Lebanon's Hezbollah is urging fellow politicians not to let the US administration divide their ranks while it mediates a dispute with Israel over an Israeli border wall and offshore gas drilling rights in a disputed patch of water.

Hezbollah Secretary-General Sayyed Hassan Nasrallah said in televised address Friday that the US administration, which has been mediating the dispute, is not an honest broker. Instead, Nasrallah called the Americans "the devils," adding that US officials have defended Israel's rights and issued threats to Lebanese politicians.

"America is not an honest broker... and one should assume that it works as an advocate for Israel," Nasrallah said, adding that the Lebanese state needed to take a "firm and strong" position on disputes with Israel and said the group was ready to act if necessary.

Nasrallah said Lebanese officials must tell the United States to listen to Lebanon's demands in order that "we hold Hezbollah back from Israel."

"In the oil and gas battle, the only card (the Lebanese) have is the resistance," Nasrallah said, in a reference to the Hezbollah movement.

If Lebanon's Higher Defense Council asked Hezbollah to stop the Israelis, Nasrallah said the group would be "ready to stop them within hours."

He also said the downing of an Israeli jet in Syria last week was a "very big military achievement," and called it an omen of things to come.

US State Secretary Rex Tillerson was in Lebanon Thursday, and the issue topped the agenda.

Acting Assistant US Secretary of State David Satterfield also met Foreign Minister Gebran Bassil and Prime Minister Saad al-Hariri on Friday.

Parliament Speaker Nabih Berri told the US envoy during the meetin that Lebanon rejects current proposals over the disputed marine borders with Israel, state media said.

"What is proposed is unacceptable," Lebanon's NNA cited Berri as saying in a meeting with Satterfield.

This was an apparent reference to a maritime demarcation line proposed by US diplomat Frederic Hof in 2012. The line would give Lebanon around two thirds and Israel around one third of a disputed triangular area of sea of around 860 sq km (330 square miles).

The dispute dates back years but recently resurfaced when Lebanon invited companies to bid for drilling in areas Israel has claimed.

A source in Berri's camp said Satterfield came with "a new plan ... after the American side became convinced" that Lebanon would not accept the Hof line.

It is unclear exactly what the new US suggestion to Lebanon regarding the disputed waters involves.

Berri insisted during the meeting with Satterfield that the maritime border should be drawn up through a tripartite committee that stemmed from a 1996 ceasefire, NNA said.

He said he wanted to see a similar process as produced the UN-demarcated Blue Line border between the two countries, which marks Israel's military withdrawal from southern Lebanon in 2000.

Lebanon last year approved the licenses for an international consortium led by France's Total, Italy's ENI and Russia's Novatek to move forward with offshore oil and gas development for two of five blocks in the Mediterranean Sea, including one known as Block 9 that is disputed in part with Israel.

Lebanese officials say the country will start exploratory offshore drilling in 2019.

Energy Minister Yuval Steinitz said earlier this month that a diplomatic resolution to the dispute "is preferable to threats."

But, speaking to Tel Aviv radio station 102 FM, Steinitz added: "We made two things clear, in a very forthright manner, over the last year. One, don't provoke us, and don't explore in or even get close to the disputed line-of-contact."