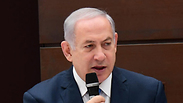 Netanyahu in Munich
Photo: Amos Ben Gershom/GPO
Netanyahu vows to hit Iran directly, if necessary
Speaking at the Munich Security Conference, the prime minister presents a piece of an Iranian drone he says Israel shot down on February 10, urges world not to repeat mistakes of 1938 Munich Agreement and prevent Iran from acquiring nuclear weapons; touching on Polish Holocaust Law, PM adds 'we will not forgive or forget' the Nazis and their collaborators.
Prime Minister Benjamin Netanyahu said on Sunday that Israel would act against Iran, not just its allies in the Middle East, if needed, reiterating that Tehran was the world's greatest threat.

Holding a piece of what he said was an Iranian drone after its incursion into Israeli airspace earlier this month, Netanyahu told the Munich Security Conference: "Israel will not allow the regime to put a noose of terror around our neck."

PM Netanyahu in Munich

"We will act if necessary not just against Iran's proxies but against Iran itself," he said, listing the threats that Tehran poses to Israel and the world.

The nuclear deal, he argued, had "unleashed a dangerous tiger in the region and beyond … Iran is devouring huge swaths of the Middle East" through its shi'ite proxies.

Israel will continue to prevent Iran from establishing a permanent military presence in Syria and would continue to prevent it from crossing red lines, he continued. Iran's brazen action had "literally reached new heights" through the drone's penetration into Israeli territory.

He warned his listeners that they would soon be addressed by the "smooth-talking mouthpiece for the Iranian regime," Foreign Minister Mohammad Javad Zarif. "I give Mr. Zarif credit. He lies with eloquence."

Holding up the debris of what he said was the Iranian drone shot down by Israel, Netanyahu taunted Zarif.

"Mr. Zarfif. Here's a piece of that Iranian drone. I brought it here after it was shot down, or what was left of it. Do you recognize this? You should. It's yours," he said. "You can take a message back to Iran. Do not test Israel's resolve."

Netanyahu began his speech by reminding his listeners of the infamous 1972 Olympic massacres which resulted in the death of eleven Israeli athletes by Palestinian terrorists, and also compared the 1938 Munich Agreement signed between Britain and Nazi Germany as part of the appeasement policy with the Iranian nuclear deal.

"Eighty years ago, another event took place here with far-ranging consequences," Netanyahu said. The architects of the Munich Agreement, he stressed, were "noble men" who chose to appease Hitler's threat rather than confront it.

"They thought they were fulfilling their highest responsibility to keep the peace. But the price of their action would soon become apparent."

The concessions to Hitler, he added, only emboldened his regime and set Europe on a path to war.

"Rather than choosing a path that might have prevented war, or at the very least limited its scope and its scale, those well-intentioned leaders made a wider war inevitable and far more costly. Sometime after the war Roosevelt asked Churchill, how would he call this war? And he answered immediately without hesitation, the Unnecessary War. He said there was never a war more easy to stop."

Dedicating the majority of his speech to the European diplomats to the Iranian threat, Netanyahu made clear his country's disdain over Poland's recently ratified Holocaust Bill that outlaws blaming Poland as a nation for Holocaust crimes committed by Nazi Germany.

Momentarily switching to Hebrew, Netanyahu then reverted back to English as he emphasized that Israel would always remember and would never forgive those who carried out the Holocaust and the Nazis' collaborators. "We will never allow the rewriting of the historical truth. We will not forget, we will not forgive. We will always fight for the truth," he said.

Netanyahu remembered the 6 million Jews "killed by the Nazis and their collaborators."

Continuing his comparison between the Munich Agreement and the Iran nuclear deal, Netanyahu noted that the signatories of the latter were also noble men.

"Today we gather two-and-a-half years after another agreement was signed in another city in the heart of Europe. There too, noble men and women, high-minded leaders hoping to avoid war, signed an agreement that brutalizes its own people and terrorizes its neighbors," he said.

Despite the parallels, Netanyahu sought to highlight the fundamental differences between the Iranian regime and Nazi Germany.

"Let me be clear. Iran is not Nazi Germany. There are many differences between the two ... Jews are not sent to the gas chambers, although religious and ethnic minorities are denied basic freedoms" he said, adding that "there are obviously many other differences."

But there were other similarities, he said, namely that Iran "makes absolutely no bones" about its intention to eradicate Israel.

"Iran seeks to dominate our region, the Middle East, and seeks to dominate the world through aggression and terror. It's developing ballistic missiles to reach deep into Europe and to the United States as well," he went on.

Netanyahu warned of the dangers posed to the world by an nuclear-armed Iran. "Iran's aggression will be unchecked and it will encompass the entire world. Look at what their doing now. Imagine what they will do later if God forbid they'll have them," he said.

"Just as was true 80 years ago, an agreement that was seen as appeasement has only emboldened the regime and brought war closer. The nuclear agreement with Iran has begun the countdown to an Iranian nuclear arsenal in little more than a decade."

After delivering his remarks, the prime minister was asked a series of questions, inter alia, about the chances of a military escalation in light of the drone incident.


"It's up to Iran. Iran is changing the ground rules," he replied before producing a map which he had marked in the red and the black to illustrate ISIS and the Iranian influence respectively.

"The unfortunate thing is that as ISIS compresses and Iran moves in, it is trying to establish this continuous empire surrounding the Middle East from the south in Yemen but also trying to create a land bridge from Iran to Iraq, Syria, Lebanon and Gaza," Netanyahu said.

Concluding his remakrs, Netanyahu urged the world nott o repeat the mistakes of the 1930s. "Let us pledge today, Ladies and Gentlemen, here in Munich, not to repeat the mistakes of the past. Appeasement never works. The hour to prevent war is getting late, but it is not too late. I am convinced that one day this regime will fall, and when it does, the great peace between the ancient Jewish people and the ancient Persian people will flourish once again," he said.

Asked whether there is still a future for the two-state solution, Netanyahu reiterated his position that the "Palestinians should have all the powers to govern themselves, but not to threaten us.

"The American governments have tried to facilitate this ... No one can facilitate it other than the United States. The trump administration has been working on their plan for the past year. I don't know if they're going to put it forward in the coming weeks or months. I think we should at least give it a shot. Let's look at it. Let's not throw it out of the window before even looking at it. We owe it to our people to give this a chance."

During his remarks before being questioned, Netanyahu did, however, hail the positive aspects that the Iranian nuclear deal had ushered in, fomenting unprecedented ties between Israel and other Arab countries determined to confront Tehran's aggression.

Now, there has been one positive consequence of Iran's growing aggression in the region. It's brought Arabs and Israelis closer together as never before," he told his audience.

"In a paradoxical way, this may pave the way for a broader peace and ultimately also for a Palestinian-Israeli peace. This could happen. But it will not happen if Iran's aggression continues to grow, and nowhere are Iran's belligerent ambitions clearer than in Syria."

Reuters and Associated Press contributed to this report.