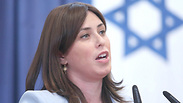 Deputy Minister Tzipi Hotovely
Photo: Gil Yohanan
Hotovely: Israelis live under 'terror of immigrants'
During discussions on planned deportation of illegal African migrants, Joint List MK asks that deputy FM's comments be erased from protocols; Lashing MK Yachimovich's evocation of the Holocaust, Hotovely urges her not to 'misuse' it and it's survivors.
Deputy Foreign Minister Tzipi Hotovely (Likud) caused a stir during discussions in a Knesset committee Monday morning when she claimed that "Israeli citizens live under the terror of immigrants and suffer from violence."

Responding to Hotovely, who was advocating the government's tougher stance for resolving the issue of illegal immigration from African countries, Joint List MK Dov Khenin said her comments were "out of place," before asking the committee's chairwoman to erase them from the committee protocols.

Despite Khenin's complaints, Hotovely doubled down on her claims. "I repeat and say again, there is terror of immigrants in south Tel Aviv," she said in reference to the area which has been most seriously affected by the wave of illegal migration in recent years that swept through Israel's once-porous southern border.

"Every sovereign state has the right to deport illegal economic migrants when they arrive at their gates. They will be deported to very safe countries where there are governments which enable very high standards of life," she continued.

"They are receiving $3,500. It is a large sum of money that they can do almost anything they want with."

Interjecting, the committee chair, MK Shelly Yachimovich stated that Israel had to demonstrate more concern for refugees, evoking the Holocaust as grounds for greater compassion.

"As a daughter of Holocaust survivors, my viewpoint is that there's a need for a strong and robust State of Israel but at the same time a concern for the refugee, for the foreigner and for the asylum seeker," she argued.

The entire issue was becoming too populist, Hotovely retorted, while taking umbrage at the comparison. "Don't misuse Holocaust survivors or the Holocaust," she responded. "This is a discussion about work migrants. I would ask that we call them work migrants."

Despite the disagreements, Yachimovich said that officials are reconsidering the situation, before she predicted that the scheduled forced deportations would not proceed on time and perhaps not at all, despite Israel notifying in January thousands of Africans who entered the country illegally that they have three months to leave or face incarceration. "I disagree with you," Hotovely succinctly replied.

The Population and Immigration Authority called on migrants from Sudan and Eritrea to leave "to their country or to a third country," meaning Rwanda or Uganda. Those who leave by the end of March will be given $3,500, along with airfare and other incentives.

The ultimatum is part of a large-scale campaign to remove some 42,000 illegal African migrants from Israel.

Also present at the discussion, Head of the Authority's Enforcement and Foreigners Administration Yossi Edelstein cited statistics illustrating a sharp surge in the number of recent applications for asylum.

"From January 1 until now, 2,000 new applications have been submitted by nationals from Eritrea and Sudan. We will decide what to do with them, but in any event, their deportation will not be delayed," he said.

He assured those in attendance that every application for asylum that has been submitted up to the beginning of the year will be examined prior to deportation. However, he refused to promise that anyone who filed an application after January 1 would not be deported.

One of the Eritreans who had filed for asylum was present during the talks, and described why he could not return to Eritrea.

"I was selected for the Eritrean athletics team and at age 17 they took me to the army. I was a soldier in the Eritrean army, I was like a slave and I escaped," he said. "I arrived from Eritrea in 2007. I cannot go back to Eritrea, because I am an activist against the government. I know people who left to Rwanda and their hope has been broken, everything has been broken."

Another asylum applicant from Eritrea told the officials that the process for seeking asylum made it almost impossible to receive permission to remain in Israel.

"When I arrived I got out at the Central Bus Station in Tel Aviv, I didn't know anyone, I didn't know where to go," he began. "From 2013 up until now, I have not managed to file an asylum application. I tried, I waited for the whole night until the morning at the Institute of Population and Immigration Authority. 350 people are waiting, only 20 people are allowed to enter. Ten minutes only," he lamented.