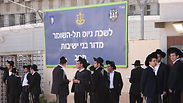 File photo. Haredim at an IDF induction center
Photo: Motti Kimchi
The Council of Torah Sages instructed United Torah Judaism (UTJ) MKs Thursday to bring a new Haredi conscription law to the Knesset and approve it before they lend their support to the state's 2019 budget.

The Council's decision effectively means that UTJ will only support the state's budget if a bill considered acceptable by the senior rabbis is brought to a vote.

UTJ's rabbis are aware that approving the budget is a supreme interest of both Prime Minister Benjamin Netanyahu and Finance Minister Moshe Kahlon, who wish to ensure the coalition's stability into next year and are thus seeking to ram the budget bill through Knesset as quickly as possible—during the current winter session.

The possibility of prolonging the winter session further and postponing recess was even floated, as a means of ensuring the budget's approval during the current session.

The Ashkenazi Haredi party has recognized the budget's approval as leverage for their desire to ensure a more favorable Haredi conscription agreement.

The issue surrounding Haredi conscription into the IDF is one of the more combustible problems facing the current coalition, which has thus far been successful in its efforts to maneuver and survive despite approving bills that raised eyeborws among some of its constituent parties—such as the Supermarkets Law opposed by Yisrael Beytenu and the Recommendations Law opposed by most of the Kulanu party.

Sources within the Likud and Yisrael Beytenu iterated their belief that a Haredi victory on the enlistment issue will be a gift to Yesh Atid and its leader, Yair Lapid, who will likely present any such agreement as surrender to the Haredim.

Likud sources further stated that publically—and following the approval of laws related to Shabbat in the past few weeks—a new conscription agreement may be taking it one step too far and be perceived as highly problematic in the public.

Those same sources said they themselves would have preferred an agreement comprising more equality in the sharing of the burden of army services over appeasing the Haredi parties. Kulanu and Yisrael Beytenu are also expected to push for a more equitable deal.

A UTJ source, meanwhile, said that while the Sages Council's decision was not conditional, it was patently clear its timing was meant to communicate the urgency of taking advantage of the window of opportunity created by the desire to pass the budget.