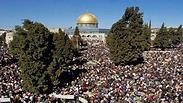 US peace plan: Palestinian state with east J'lem as capital, limited sovereignty
Asharq Al-Awsat reports on a developing US Mideast peace plan that recognizes east Jerusalem as Palestinian capital, no right of return, limited demilitarized sovereignty, billions in aid, Jordan Valley remaining in Israeli hands; Europeans offer arbitration assistance but unwilling to replace US.
The US peace plan to resolve the Israeli-Palestinian conflict includes recognizing east Jerusalem as the Palestinian capital, with no right of return and limited sovereignty, the London-based pan-Arab newspaper Asharq Al-Awsat reported on Wednesday, citing diplomatic sources in France.
According to the diplomats, the United States does not rule out the possibility that east Jerusalem will be the capital of the future Palestinian state, provided the Old City is under international rule.
The diplomats also revealed to the newspaper that the American plan envisions the Palestinian state as having limited, demilitarized sovereignty, but its borders would not be based on the Green Line (the borders set after the 1967 Six-Day War).
In addition, the Jordan Valley will remain under Israeli sovereignty and the large settlement blocs will remain in place, while "small" settlements will be transferred, although it is unclear to where.
At a later stage, the Palestinian Authority will receive additional security and administrative powers in Areas A and B of the West Bank, according to the plan.
The plan includes $40 billion in US aid towards the establishment of a Palestinian state and its institutions.
Israel will maintain responsibility over security on the borders, while in Gaza, Egypt will be involved. With regards to Palestinian refugees, the plan calls on them to remain where they are and receive compensation.
A number of Arab foreign ministers, including the Secretary General of the Arab League Ahmed Abu al-Gheit, met Tuesday with the Foreign Affairs Minister for the EU, Federica Mogherini, and other senior officials to discuss the peace process.
Asharq Al-Awsat reported Wednesday morning that the Arab ministers asked their European counterparts to assist with arbitration between the two sides in light of Palestinian President Mahmoud Abbas's declaration that the US cannot remain as an arbitrator.
However, Arab officials reiterated that Washington still has a role in the peace process, especially considering the fact that it is expected to announce its new peace plan soon.
A European diplomat told the Arabic newspaper that Europe does not believe it can take the place of the Americans, but that they can nevertheless help. Because of the close relationship between Israel and the United States, European leaders believe only the US can pressure Israel into a peace deal.