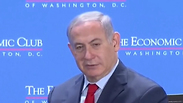 Netanyahu in Washington
Photo: Reuters
Netanyahu mocks reasons behind corruption probes
During appearance at The Economic Club in Washington, the prime minister was asked what is the best thing about his job, jokingly replying that it was the investigations against him; asked whether Trump gave him his red tie, he responded; 'That could be investigated so I won't answer.'
Prime Minister Benjamin Netanyahu tried to make light of the multiple cases being conducted against him on Wednesday, quipping to an interviewer in Washington that his favorite thing about his job were "the investigations."

Netanyahu is a suspect in three graft probes.

Speaking at the Economic Club in Washington as part of his five-day trip to the US, Netanyahu mocked the probes being conducted against him, insinuating that Israeli authorities launch graft cases against him over trivia.

PM Netanyahu at the Economic Club in Washington

"You met with President Trump and I noticed that you are wearing a red tie that he often wears, is that something that he gave you as a gift?," the prime minister was asked.

"That could be investigated too so I won't answer," Netanyahu replied, to the crowd's amusement.

Netanyahu also echoed his warning issued in a statement Tuesday evening that the government members either find a solution to the ongoing crisis regarding Haredi demands over IDF conscription legislation that has rattled the stability of the coalition, or elections will be called.

"I want to continue the term until 2019 and for the partners to agree to this. If they don't agree, we'll go to elections," he said.

He also attempted to dispel the commonly held belief that his relations with President Obama were severely strained.

"Contrary to the general press freed, buzzfeed, I actually had very good personal relations with all three of them," he said in reference to the three US presidents that he has had to work with during his premiership.

"But I had agreements and disagreements. For example with President Obama, we signed a Memorandum of Understanding, an MoU for a ten-year military aid package to Israel which I deeply appreciate. I think it's great," he said.

Under the current administration, however, Netanyahu said that relations were devoid of any disagreements.

"I would say that with President Trump I had fewer disagreement. In fact I haven't found any yet and I don't expect there to be," he said.

Regarding the threat Netanyahu says Iran poses to Israel and the world with its nuclear ambitions, he reiterated what he told the American Israel Public Affairs Committee (AIPAC) Conference the previous night.

"Without the activities that we did in many many areas I think Iran would have had nuclear weapons long ago. They're not going to get them. We're not going to let them," he said.

He failed, however, to directly answer whether his country would be pleased if US President Donald Trump says he is going to withdraw from the Iranian nuclear deal or upset if he remains in it.

"Well he asked me that question and I said look, you either fully fix this deal or fully nix it because right now it's a highway with international approval for Iran to get to massive unlimited enrichment within a few years," Netanyahu warned.

"Iran, since the deal has been signed has been like a tiger unleashed from its case. The deal emboldened it, enriched it and instead of joining the community of nations they're just devouring the nations one after the other … The whole thing is going in a very bad direction," he added.

Iran should know, he continued, that it doesn't have a free pass to a nuclear arsenal and to the conquest of the Middle East.

The peace process between Israel and the Palestinians was also a topic of discussion during the interview, but the prime minister did not endorse a two-state solution to the conflict.

"Well I think most Israelis would favor a situation where we could separate from the Palestinians. I don't want the Palestinians as citizens of Israel and I don't want them as subjects of Israel," he said after being asked whether he favored a two-state or one-state solution.

"So I want them to have all the powers to govern themselves, but none of the powers to threaten us.

"The answer to your question is, most people would agree to an arrangement of the kind that you're talking about if they thought that the Palestinians wanted a state next to Israel. But they're convinced more and more that they want a state instead of Israel. And that's not a real peace. People would go for a real peace, not a fake one."