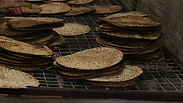 Shmura matzah
Photo: Motti Kimchi
Several dozen residents of Williamsburg, Brooklyn, are demonstrating this week against the Satmar community and its Matzah factory, which they say is causing severe air pollution that harms their health and quality of life.
With Passover only three weeks away, Satmar's matzah factory is working diligently to provide the ultra-Orthodox community of Brooklyn and the surrounding area with strictly kosher matzah (hand-baked unleavened bread), but the non-Jewish residents of the neighborhood have voiced serious complaints.
Protest against matzah factory
The local media is covering the story and residents told local network WPIX that the plant emits what they describe as "toxic coal smoke," especially during the morning hours, and requires them to wear masks on the way to the subway. According to them, they have been complaining about this nuisance for seven years to the authorities, but they have not received any response.
"As if our apartment is on fire"
The JBN website explains that while baking the matzah, the plant burns coal and wood, which causes the heavy emission of smoke. "It smells like burnt rubber, a terrible smell," says Marino Ferreras. Being asthmatic, he says he was forced to wear a gas mask.
Another resident of the neighborhood, Rosa Ortiz, told WPIX that the smoke was harming her nine-year-old son who suffers from asthma. "The smoke wakes us up in the middle of the night, and we feel like our apartment is on fire," she says.
The incident has strained relations between the ultra-Orthodox residents and their non-Jewish neighbors. The factory refused to comment, but a neighborhood resident Yidi Warberger claimed that "these demonstrators are here just to make a fuss. There's no problem here, they use only clean wood and coal."
Some of the demonstrators claimed they have no interest in closing the factory, but only in ensuring that its workers "behave responsibly, like neighbors," as Andrew Rayne says, "so that we can sleep with open windows and not wake up to the apartment shrouded in smoke."
During the demonstration, one of the protesters clarified to the ultra-Orthodox residents who gathered in the area that they took no issue with the community members "It's not because of you, it's not about you, nor about the factory workers."
Residents living near the site presented PIX11 with video clips documenting the smoke emitted from the factory and the ash-filled garbage cans along the street. They also say that about a year ago, the bakery was severely damaged by a fire that broke out after a wood-burning stove that was used for the first time.