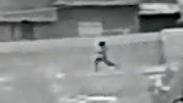 The terrorist fleeing
Photo: IDF Spokesman's Office
Soldiers from the Netz Company of the Combat Intelligence Collection Corps' Nitzan Field Intelligence Battalion captured a 17-year-old Bethlehem resident on Monday after he threw Molotov cocktails at a West Bank road used by tens of thousands of Israelis and Palestinians alike.

Video released by the IDF shows the Palestinian suspect arriving with a terror cell from the village of al-Khader, which is north of the settlement of Efrat, and then throwing fire bombs at a road connecting to Highway 60.

Footage of Palestinians throwing firebombs at road (צילום: דובר צה"ל)

The troops ambushed the terrorists, identifying them in real time while they were hurling the Molotov cocktails at passing vehicles using a thermal drone made by Matrix.

IDF observers from the Etzion Territorial Brigade directed the soldiers, who chased the terror cell members and caught the one seen throwing the firebombs. The terrorist was taken in for questioning by the Shin Bet.

The troops also used helmet cameras that helped them locate the terrorists from the ambush location.

IDF officials said that over the past year, Nitzan Battalion soldiers conducted 90 successful ambushes, thwarting stone- and firebomb-throwing at Israeli vehicles and arresting suspects.