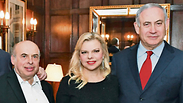 Natan Sharansky and Sara and Prime Minister Netanyahu
Photo: Haim Zach/GPO
PM Netanyahu, fmr. President Bush attend Sharansky bash
Outgoing Jewish Agency chief Natan Sharansky to conclude 9-year posting to US this June; Agency holds going-away party in his honor in NYC, with PM Netanyahu, fmr. President Bush, Minister Elkin, Bennett and Opposition Chairman in attendance along with dozens of JA envoys.
Former US President George W. Bush and Prime Minister Benjamin Netanyahu participated in a gala event bidding farewell to outgoing Jewish Agency Chairman Natan Sharansky.

Also in attendance were Knesset Speaker Yuli Edelstein, Ministers Naftali Bennett and Ze'ev Elkin and Opposition Chairman Isaac Herzog, as well as heads of American Jewish communities and organizations.

Sharansky will be concluding a nine-year posting in the United States this coming June.

The current Jewish Agency head first rose to prominent in the 1970s, when he was incarcerated in the Soviet Union for his Zionist activism and was one of the leading "refuseniks"—people denied right to make Aliyah by Soviet authorities.

Sharansky served nine years in Soviet prisons. Upon his release in 1986, he immediately immigrated to Israel. His political career began in 1995, when together with Edelstein he founded the Yisrael BaAliyah party, which later merged with Likud.

Throughout his political career, Sharansky served as minister of industry and trade, interior minister, housing and construction minister and minister of Jerusalem affairs.

He was elected chairman of of the Jewish Agency in June, 2009.

"I'm extremely proud of Jewish Agency emissaries who take our mission to campuses, communities, synagogues and schools," Sharansky said at the New York City event.

Prime Minister Netanyahu congratulated Sharansky, and said, "Thank you, Natan, for your service to the Jewish people, the Jewish state and the cause of freedom."

Dozens of Jewish Agency envoys participated in the ceremony as well, and danced raucously to to the sounds of Israeli hit "Todo bom" by the duo of Static and Ben-el Tavori.