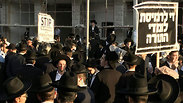 Haredi protest in Bnei Brak
Photo: Motti Kimchi
Hundreds of ultra-Orthodox members of the Jerusalem Faction demonstrated Monday afternoon on Jabotinsky Street in Bnei Brak, blocking main roads in protest of an arrest of a yeshiva student who failed to appear at the IDF recruiting office and was jailed in military prison for defection.
Protestors blocked the Geha interchange, cutting access to Highway 4 to the south. Several demonstrators then clashed with police forces who attempted to disperse them.
"We'd rather die and not enlist, we'll happily go to jail," protesters were heard shouting.
The demonstration was a continuation of the demonstration held last week in Jerusalem in protest of another arrest of a yeshiva student from the hardline Haredi community who was also imprisoned for refusing to enlist.
"The continuation of the struggle was determined by the clear instructions of the Council of Torah Sages, which instructed us to continue the struggle against the draft with all our might," the statement by the Jerusalem Faction said.
"We hereby announce the intensification of the demonstrations until the draft law is reverted to its (previous—ed) form, without stipulating recruitment quotas.
"We call upon our fellow Israelites, who look with weary eyes at their representatives in the Knesset, how they make compromise after compromise and cut into the living flesh of the Torah world and are even willing to sell Judaism for jobs and money."
Many police forces from the Tel Aviv district have been in the area since the morning, including dozens of police officers, Yassam forces, detectives and cavalry.
In a statement issued by the police, it was noted that they would allow the protest to take place, but at the same time, they would not allow public order violations that could harm the peace of the general public.
"We will allow the freedom of speech and protest of any citizen who desires it, but at the same time we will have zero tolerance to those who seek to disrupt public order and may harm the peace of the general public," the police said.