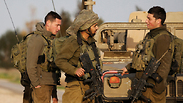 IDF soldiers near Gaza
Photo: Reuters
IDF neutralized bomb on Gaza border last year using lasers
Hours after bombs explode on Gaza border, Ynet learns that a powerful bomb was also planted in December by Palestinian rioters and was spotted by female soldiers from lookout points; the bomb, which was detonated from afar by the IDF, sprayed hundreds of pieces of shrapnel onto Israeli side.
Hours after two explosive devices were detonated in the small hours of Thursday morning on the Gaza border fence, which are believed to have been planted by Palestinian rioters, Ynet learned that a similar incident took place recently that could have had deadly results.

On December 20 last year, IDF soldiers spotted a powerful bomb being planted by Palestinian rioters who were protesting near the border fence. Sapper neutralized the bomb without any incident using lasers that caused it to explode from afar.

In recent weeks, the army has claimed that Palestinians, who protest every week at the border, have been exploited by Hamas and other terror groups in the Gaza Strip on at least three occasions to plant bombs.

According to details about the December neutralization, it was the alertness of the female soldiers stationed at observation posts which led to the successful thwarting of what could have been a deadly incident.

During the protest, the soldiers watched as two Palestinians in civilian clothing approached on a horse waggon a different point of the fence to where the main riot was going on. The soldiers realized that one of them placed something on the curly metal fence that the IDF had added to the barrier between Gaza and Israel.

The bomb was placed between 20 - 30 meters from the fence next to where IDF soldiers operate.

As a result of the report by the female soldiers to their operational headquarters, the area was closed off by the forces and the bomb was disposed of 100 meters away. The lasers used heated the bomb up, causing it to explode.

The impact of the explosion attested to the bomb's unusual power, and during a subsequent scouring of the area, hundreds of shrapnel pieces had penetrated the fence and landed on the Israeli side.

The IDF says that had it not been neutralized in time, it could have inflicted multiple injuries. It remains unclear, though, who was responsible for laying the bomb.

In February, two soldiers were seriously wounded and two others moderately and lightly wounded when an explosive device was set off near an IDF patrol around the border fence in the southern Gaza Strip, opposite the Ein HaShlosha kibbutz.