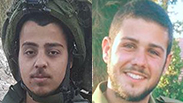 Netanel Kahalani (L) and Ziv Daus
Names of soldiers murdered in ramming attack cleared for publication
IDF clears for publication that 2 soldiers murdered in West Bank terror attack Friday were Lieutenant Ziv Daus and Sergeant Netanel Kahalani; Daus is the first soldier from Home Front Command's search and rescue brigade killed in duty, was murdered exactly 3 years after enlistment; Kahalani's father demands death penalty for terrorists 'or this will never stop.'
Lieutenant Ziv Daus, 21, of Azur, and Sergeant Netanel Kahalani, 20, of Elyakim are the two soldiers murdered in the West Bank terror attack Friday, it was cleared for publication Saturday evening. Daus was a company commander with the army's search and rescue brigade, whereas Kahalani was a driver in Menashe Territorial Brigade routine security operations.

The two received the customary posthumous promotions to higher ranks.

Ziv Daus, the eldest child in his family, is survived by his parents and two sisters. His uncle, Yonatan, revealed he was murdered exactly three years after his enlistment date, on March 16, 2015.

"His mother heard there was an attack, got scared and tried calling him—but he couldn't answer," his uncle recounted, adding, "Ziv was a quiet boy, loved people and was humble. He did everything to contribute to the country—upping his medical profile to serve as a combat soldier. Some people are motivated by hatred, whereas we're motivated by love. Those who are motivated by love will prevail."

"Six months ago, Ziv asked his mother to buy another soldier a watch with his own money. He said the soldier keeps receiving punishments because he didn't own a watch and was always late. That shows his values," his uncle concluded.

Neighbor Michal Sagiv also shared Daus's travails towards combat service, saying, "He fought to raise his medical profile—lowered due to asthma—so he could serve in a combat role. He wanted to serve in a combat role and loved his service. His mother would say she fears for him."

Daus is the first IDF casualty belonging to Home Front Command's search and rescue brigade to be killed in army operations. Command's regular brigade was created five years ago, and includes the coed battalions of Kedem (whose soldiers were wounded in the attack), Ram, Shachar and Tavor.

The brigade undertakes operations in the West Bank and near the Israeli border with Egypt. In the past few years, the brigade's soldiers have sustained serious injuries in operations—including an officer seriously wounded by an explosion near the village of Hizma and a female soldier mortally wounded by a stabbing in Binyamin—but Daus was the first mortality.

The other soldier killed in the attack, Netanel Kahalani, is survived by his parents and four siblings. "Netanel was like a present," his mother Naomi said. "I thank God for giving that boy to me. He had a heart of gold. He was loved everywhere. I loved him so much and he'll be in my heart forever."

Netanel celebrated his 20th birthday last month in a karaoke party with his friends, his mother said, adding, "He loved it so much. They partied to the morning."

Netanel's father Danny demanded a death penalty for terrorists, "or this will never stop. I have another son in the army and another one about to enlist. Who can promise me he'll return alive and well? I don't sleep at night as it is."

"Netanel was a boy who never had a chance to do anything. We sent him off to the army and got him back like that. It's a blow to the entire family. I don't know how I can carry on living," his father said ruefully.

Itzik Holvsky, the head of the Megiddo Regional Council whose son studied in the same grade as Kahalani, said, "The Kahalani family is a splendid family. The entire council bows its head in memory of a talented, wise and well-mannered soldier—a wonderful son and an exemplary soldier."

One of Kahalani's family members revealed the family was distantly related to Brig.-Gen. (res.) Avigdor Kahalani. The Megiddo high school in which Netanel was a student opened its gates Saturday afternoon to graduates, Netanel's friends, who were invited in to receive support from faculty. Nearly 70 students and graduates came in.

The attack also wounded two soldiers—one very seriously and one moderately. They are hospitalized at the Beilinson Hospital at the Rabin Medical Center in Petah Tikva.

Doctors continued fighting Saturday for the life of the soldier who was seriously wounded in the head and limbs. He underwent several operations and his condition stabilized somewhat, but his life remained in danger. The soldier who was moderately wounded also underwent an operation on his limbs overnight.

A Shin Bet interrogation of terrorist Alaa Kabha, a security prisoner released from Israeli prison in April of last year, showed that the car ramming was intentional and nationalistically motivated.

While the terrorist initially claimed it was an accident, he later changed his account and admitted he wanted to murder soldiers. His brother remained in custody as his involvement in the attack is examined.

Shin Bet added that no other persons involved in the attack or aware of Kabha's intentions were known at present, meaning he was a "lone wolf" terrorist acting without the guidance of a terror group or any affiliation thereof.
Checkpoints set up around terrorist's village, his home mapped for demolition
IDF forces from the Menashe Territorial Brigade carried out extensive operations overnight Friday in the village of Barta'a, the home of Kabha, 26.

A suspect was arrested during the operation, and troops conducted searches for hidden weapons. The following day, IDF forces put up checkpoints around the village, inspecting Palestinian vehicles traveling in the vicinity, fearing more people from the village or Kabha's extended clan will be inspired to commit similar attacks.

Troops also raided Kabha's home, questioned members of his family and arrested his brother for further interrogation. Engineering forces mapped the terrorist's home in preparation for its demolition.

An initial investigation into the incident found that when they were spotted by the terrorist, the troops were standing near a pillbox post located between the village of Ya'bad and nearby olive plantations. The two slain soldiers were standing at the front of their jeep, while the other two stood on the vehicle's other side, near the road.

Upon spotting the soldiers, the terrorist veered from the road, sped up, and hit Daus and Kahalani first. The two were killed instantly.

The terrorist then sped towards the two other troops, wounding one very seriously and the other moderately. At some point, the terrorist also hit the barbed-wire fence that surrounded the pillbox post.

The IDF's assessment is that only seconds passed between the time the terrorist hit the first two soldiers to when he hit the other two, leaving the troops no time to respond and fire at him.

The terrorist's Hyundai jeep has been completely destroyed in the attack, with vehicle parts scattered to considerable distances from the spot of the attack, which is a testament to the force with which he rammed into the soldiers.