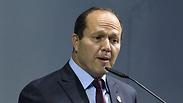 Jerusalem Mayor Nir Barkat
Photo: Motti Kimchi
Jerusalem Mayor Barkat to vie for Likud national list
After serving as the capital's mayor for the past decade, Barkat announces he will not seek reelection, content for spot on Likud's national list for coming elections; rival in last elections Moshe Lion announces mayoral bid; Karmiel Mayor Adi Eldar announces retirement after 30 years in office.
Jerusalem Mayor Nir Barkat officially announced last Wednesday that he will forego running for a third term as mayor and instead run on the Likud party's national ticket in the coming elections. "I have decided to serve Israel on the national level and strengthen the Likud movement, whose path I wholeheartedly believe in," he said.

"I intend to ask for the support of its members in the coming elections," Barkat said in a video published on Facebook. On the matter of the upcoming Jerusalem municipal elections, Likud's Moshe Lion—who ran against Barkat in the last elections—will make another mayoral bid.

In his announcement video, Barkat—who has been the capital's mayor for the past ten years—said, "Sixteen years ago, I left all of my businesses and gave my all, for one shekel a year, to the saving of Jerusalem—the city in which I was raised and where I started my family.



"For a decade and together with many partners, chief of whom was Prime Minister Benjamin Netanyahu, we have made a historic turning and have returned Jerusalem to growth, with the largest budget in the city's history. After Jerusalem got on the right track, I will not be running for a third mayoral term," he stated.

"At the conclusion of the coming term," Barkat continued, "I will be leaving city hall, but will never leave Jerusalem. The success of Jerusalem—united, the eternal capital of the Jewish people—is the success of Israel. Now, I have decided to serve Israel on the national level and strengthen the Likud movement, whose path I wholeheartedly believe in and there I aim to seek its members' support in the coming elections."

The battle to succeed Barkat is well underway, it seems, as following the incumbent mayor's official announcement, city council member and holder of the community management portfolio Moshe Lion announced he will be running in the coming municipal elections.

"Five years ago, I decided to place my old life aside and have directed all of my efforts, abilities and skills towards the betterment of Jerusalem," said Lion, an accountant by trade and former director-general of the Prime Minister's Office as well as former chairman of Israel Railways."

"I have invested my all for the capital as city council member and have deepened my involvement in managing the city's affairs," he added.

"I have worked alongside Barkat in the past few years and thank him for the period of joint action we have enjoyed," Lion added. "We have worked together to march the city forward. I have contributed much to the city's development and am readier than ever today to push Israel's capital farther still."

Chairman of the Hitorerut (Wake-up Jerusalem) movement Ofer Berkovitch, who is also running for mayor, said, "I'd like to thank Nir for his years' long work on behalf of Jerusalem, but it's now time to unite around the city's largest Zionist movement.

"I call upon all of the city's residents to unite behind Hitorerut, headed by me, and to elect us—the natural choice—in the coming elections. Together we'll march Jerusalem to the bright future it deserves," he promised.

"We'll create a true inter-sectorial partnership that will strengthen Jerusalem. Jerusalem is a national task, something both I and those of my generation understand. Now's our time to rise to the responsibility and take the lead in Jerusalem."
Karmiel mayor announces retirement
Municipal news also came from the northern city of Karmiel, where longtime mayor Adi Eldar announced Wednesday morning he will not be seeking reelection after thirty years at City Hall.

During his stewardship, the city has grown from 17,000 to 55,000 residents. "For a generation, I have had the immense privilege of heading Israel's most successful and most beautiful city, which can compete with any other—in Israel or abroad."