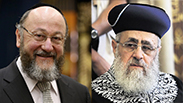 Rabbi Mirvis and Rabbi Yosef
Photo: Alex Kolomoisky, Getty Images
Britain's Chief Rabbi Ephraim Mirvis has slammed his Sephardic counterpart in Israel Rabbi Yitzhak Yosef for making "deeply offensive" remarks about black people, comparing them to "monkeys."

Yosef drew criticism last week for comparing, during one of his weekly religious lessons, black people with monkeys, referring to them using the pejorative term in Israel, "kushi."

"We don't say a blessing for every kushi … He needs to be a kushi whose father and mother are white … if you know, they had a monkey for a son," Rabbi Yosef said.

Delivering a sermon last week, Mirvis said that the comments, which were made in the context of a Talmudic discussion, were "totally unacceptable" and said that his office "has contacted the Chief Rabbinate in Israel directly" to voice its objections.


According to the UK chief rabbi's offices, Rabbi Yosef's bureau had replied that he never intended to cause any offense.

During the sermon on the weekly Torah portion of Vayakhel-Pekudei, Rabbi Yosef spoke about the blessings of trees which is a customary ritual during the month of Nissan.

The halachic question revolves around whether to bless one tree or at least two and in this context, Rabbi Yosef offered examples of other blessings, for example the blessing of "strange creatures" that evoke attention or repulsion, rather than aesthetic pleasure.

Mirvis's lashing out at Rabbi Yosef marked the first time that a chief rabbi in the UK has publicly criticized a chief rabbi of Israel.

Rabbi Mirvis's comments were also preceded by criticism from the UK's Board of Deputies.

It "deplored the reprehensible racist remarks made by Rabbi Yitzchak Yosef, who used a slang term and apparently referred to a black person as a monkey," said the organization's president, Jonathan Arkush.

"In so doing he has betrayed his office. He should be working to eliminate all forms of racism, not voicing backwards ideas."

A statement issued on Rabbi Yosef's behalf after the remarks insisted that "The words of the rabbi are quoted from the Babylonian Talmud in Berakhot. R. Joshua b. Levi said: 'On seeing pockmarked persons one says: Blessed be He who makes strange creatures. An objection was raised: If one sees a kushi … he says: Blessed be He who makes strange creatures…. Our Rabbis taught: On seeing an elephant, an ape, or a long-tailed ape, one says: Blessed is He who makes strange creatures.'"

Last week, the Anti-Defamation League also rebuked rabbi Yosef for his derogatory comments.

The New York City-based organization devoted to battling anti-Semitism and racism called Rabbi Yitzhak Yosef's comments "racially charged" and "utterly unacceptable."