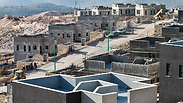 Peace Now: Settlements grew under Trump presidency
Left-wing organization says Trump has shown more leniency toward Israeli construction than his predecessors, with report concluding that Israel began building 2,783 new homes in West Bank in 2017, marking a 17% increase on annual average since Netanyahu took office in 2009.
Construction of West Bank settlements surged during the first year of the Trump presidency, an Israeli left-wing Peace Now group said Sunday, releasing data that added to Palestinian mistrust of the American administration.

Peace Now said that Israel began construction of 2,783 settlement homes in 2017. That was about 17 percent higher than the annual average since Prime Minister Benjamin Netanyahu took office in 2009.

It said that 78 percent of the new homes were in outlying settlements that would likely have to be evacuated if a Palestinian state is established. And 234 units, or 8 percent, were in tiny outposts that are not authorized by Israel, it said.


Three illegal outposts were said to have been established last year.

The isolated settlements described by Peace Now included Karnei Shomron, in which construction on 261 housing units began, Elon Moreh in which 22 units were underway, and 39 in Na'ale. Thirty-three units were built in Mitzpe Yeriho, and 11 in Ramat Gilad.

Trump has taken a softer line on Israeli construction in the West Bank than some of his predecessors. He has asked Israel to show restraint at times, but avoided the strong condemnations voiced particularly by Barack Obama.

Peace Now said its data is collected through aerial surveys and inspections by monitors on the ground. In its report, Peace Now stopped short of blaming the jump in construction exclusively on White House policies.

Netanyahu has been a strong supporter of the settlements throughout his career, and his coalition is dominated by religious and nationalist politicians aligned with the settlement enterprise and who oppose Palestinian independence, fearing that it would constitue an aggressive threat on its doorstep.

"The steady pace of construction and building deep in the West Bank attest to Prime Minister Netanyahu's steadfast abetting of the settlement enterprise," the report said. "It is also apparent that the new US presidency in 2017 had no marginal deterrent effect on these Israeli unilateral moves."

Israeli proponents of constructing in the West Bank, referred to by them as Judea and Samaria, have issued their own data showing growth in their communities. Last month, a settler leader, using official government data, said the West Bank Israeli population grew 3.4 percent last year, nearly double the growth rate of Israel's overall population, to more than 435,000 people.

For the Palestinians, the Peace Now data was another cause for mistrust of the US administration just as the White House is trying to wrap up a Mideast peace initiative.

The Palestinians have severed most contacts with the White House since Trump recognized Jerusalem as Israel's capital in December. The Palestinians view the move as being unfairly biased toward Israel on the most sensitive issue in the conflict, and have already rejected the US peace plan before it has been made public.

Nabil Shaath, a top adviser to Palestinian President Mahmoud Abbas, said the figures proved that Netanyahu is "not interested in peace" and is destroying hopes for a two-state solution.

"Netanyahu is continuing his settlement project, enjoying the fact that the US is silent," he said. "These numbers are very dangerous. We condemn it, and will continue working politically to stop it."

Netanyahu, by contrast, has consistently argued that the Palestinians are opposed to direct negotiations with the Israelis, and have instead dedicated their efforts to delegitimize Israel and incitie Palestinians to commit acts of terror.

Both Netanyahu's office and the White House did not immediately respond to requests for comment.

Elisha Ben Kimon contributed to this report.