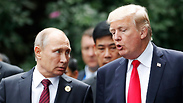 Putin and Trump meet in Vietnam (file photo)
Photo: EPA
US, Canada, EU expel Russian diplomats in coordinated move
18 nations, both in North America and in Europe expel Russia diplomats to punish Moscow for its alleged role in poisoning an ex-spy and his daughter in Britain; 'The United States and our allies and partners make clear to Russia that its actions have consequences,' says White House spokeswoman.
The United States and more than a dozen European nations kicked out Russian diplomats on Monday and the Trump administration ordered Russia's consulate in Seattle to close, as the West sought joint punishment for Moscow's alleged role in poisoning an ex-spy in Britain.

Warning of an "unacceptably high" number of Russian spies in the US, the Trump administration said 60 diplomats would be expelled—all Russian intelligence agents working under diplomatic cover, the US said.

The group includes a dozen posted to Russia's mission to the United Nations who the officials said were engaged in "aggressive collection" of intelligence on American soil. The expelled Russians will have seven days to leave the US, said the officials.

White House spokeswoman Sarah Huckabee Sanders said the actions would make the US safer by "reducing Russia's ability to spy on Americans and to conduct covert operations" that threaten US national security.

"With these steps, the United States and our allies and partners make clear to Russia that its actions have consequences," Sanders said.

The move was one of the most significant actions President Donald Trump's administration has taken to date to push back on Moscow and Russian President Vladimir Putin. Less than a week ago, Trump congratulated Putin by phone for his re-election but didn't raise the spy case, renewing questions about whether the US president is too soft on the Kremlin.

Canada also said Monday it was expelling four Russian diplomats and denying accreditation for three more in response to a "despicable, heinous and reckless" nerve agent attack.

"The four have been identified as intelligence officers or individuals who have used their diplomatic status to undermine Canada's security or interfere in our democracy," Foreign Minister Chrystia Freeland said in a statement

Across the Atlantic Ocean, 14 European Union nations, including those in Russia's backyard, announced they expelling Russian diplomats, with more likely to follow. An EU official put the total from those countries at more than 30 Russians. Germany, Poland and France each planned to boot four, the Czech Republic three and Italy two. The Netherlands and Denmark are expeling two each, while Sweden is kicking out one Russian diplomat.

Ukraine, a non-EU country with its own conflicts with Moscow, was expelling 13 Russians, President Petro Poroshenko said. Finland and Romania have also announced they will each expel one Russian diplomat. All three Baltic states said they would kick diplomats out, with Estonia, Latvia expeling one each and Lithuania expeling three.

Croatia will declare one Russian diplomat 'persona non grata,' Prime Minister Andrej Plenkovic said. "We thus show that we do not accept such an attack to which the United Kingdom has been exposed," Plenkovic said, without providing any details on the diplomat to be expelled.

Almost all of the countries said publicly that the Russian diplomats they were expelling were actually spies.

The expulsions came with a chorus of condemnation for the Kremlin—for the poisoning, Russian spying and other Western grievances. Poland's Foreign Minister Jacek Czaputowicz called it "the right response to the unfriendly, aggressive actions of Russia." In the Czech Republic, where Russian officials have claimed the poison may have originated, Prime Minister Andrej Babis dismissed that allegation as "an utter lie."

British Foreign Secretary Boris Johnson tweeted that "Today's extraordinary international response by our allies stands in history as the largest collective expulsion of Russian intelligence officers ever and will help defend our shared security."

British Prime Minister Theresa May said the coordinated measures "clearly demonstrate that we all stand shoulder to shoulder in sending the strongest signal to Russia that it cannot continue to flout international law".
Embassy calls on Russians to vote which US consulate to close
Russia's Foreign Ministry called the actions a "provocative gesture" and promised to respond in kind and in the coming days. Kremlin spokesman Dmitry Peskov told reporters President Vladimir Putin would make the final decision about how Russian responds to the expulsions.

"The provocative gesture of solidarity with London by these countries, who have bowed to the British authorities in the so-called Skripal affair and did not bother to understand the circumstances of what happened, is a continuation of the confrontational path to escalation," the Russian Foreign Ministry said.

"Britain's allies ... are blindly following the principle of Euro-Atlantic unity, to the detriment of common sense, the norms of civilized international dialogue, and the principles of international law."

"It goes without saying that this unfriendly act by this group of countries will not go without notice and we will react to it," the statement said.

Russian Foreign Ministry spokeswoman Maria Zakharova suggested that the EU's expression of support for Britain was misguided given that it would be leaving the bloc next year.

"Britain is leaving the European family. No one cancelled Brexit, and the divorce process is in full swing," Russian Foreign Ministry spokeswoman Maria Zakharova wrote on Facebook.

"Therefore a country which is leaving the European Union is exploiting the solidarity factor and is foisting on those countries that remain a worsening of relations with Russia."

Russia's Embassy in Washington responded to the decisions on Twitter by hinting at retaliation, asking its followers to vote which US consulate should be shuttered: St. Petersburg, Yekaterinburg or Vladivostok.

In Washington, Russia's ambassador to the US, Anatoly Antonov, was summoned early Friday to the State Department and told that the 60 diplomats would have one week to leave the country, a State Department official said. Antonov was later quoted by Russian news wire Tass as saying he "expressed resolute protest to the "illegal actions" and emphasized there's no proof of Russian involvement in the poisoning.

Russia's Consulate General in Seattle must close by April 2. The facility is a particular counter-intelligence concern to the US because of its proximity to a US Navy base, said the senior US officials.

Britain has already expelled 23 Russian diplomats, accusing them of being undeclared intelligence agents, which led Russia to expel the same number of British diplomats. The European Union has already recalled its ambassador to Russia.

The expulsions add to a serious escalation of tensions between Russia and the West that has been building since the March 4 poisoning of Sergei Skripal, a former Russian military intelligence officer convicted of spying for the UK, and his daughter, Yulia. The two remain in critical condition and unconscious. A policeman who responded to their home was also injured.

Britain has accused Moscow of perpetrating the attack using a Soviet-developed nerve agent known as Novichok. The US, France and Germany have agreed it's highly likely Russia was responsible.

Russia's government has denied responsibility and has blasted Britain's investigation into the poisoning. There was no immediate reaction from Russia to the US announcement.

Reuters contributed to this report.