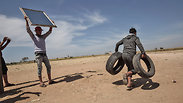 Palestinian protesters
Photo: AFP
Due to the IDF's use of snipers during Friday's March of Return riots along the Gaza security fence, protesters are resorting to the use of mirrors to blind IDF soldiers and to burning tires to create thick smoke to obscure them from sight.

Several thousand Palestinians remain in tent camps along the Gaza border, continuing their protest for what they describe as a right of return for refugees and their descendants to what is now Israel.

Their numbers are far smaller than at the peak of the demonstration over the weekend, which saw the worst violence in Gaza since the 2014 Operation Protective Edge which followed the kidnapping and murder of three Israeli teenagers by members of Hamas, the armed Islamist group that controls the sealed-off coastal enclave.

A Palestinian source from the Gaza Strip told Ynet that a tire-gathering campaign has been gathering momentum in the strip in the past few couple of days.

He elaborated that groups of young Palestinians were walking along Gaza streets with donkey carts and collecting old tires and broken mirrors and bringing them to the assembly area in the eastern part of the strip, near the border with Israel.

He further noted the protests are facilitated by international support.

Meanwhile, in the past few days Palestinians have been publishing close-up pictures of IDF snipers, allegedly captured on Friday, captioned: "You're in our sights, too."

Hamas has also threatened further escalation, with Hamas's Gaza leader Yahya Sinwar taunting Israel Sunday, saying that "the unemployed in Gaza have found work at your borders—to burn your equipment and snipe you from a close range."

Hamas political bureau chief Ismail Haniyeh also threatened to intensify the protest, saying, "Our people cannot stand the continued siege on Gaza. In the march on Friday we stopped at the border line, but next time we do not know where the line will be."

On Monday, disturbances on the Gaza Strip border, south of Nahal Oz, resumed. Dozens of demonstrators drew closer to the border, prompting the IDF to use riot control measures to disperse them.

The same day, an IDF force arrested two Palestinians who crossed the security fence in the Eshkol Regional Council area and took them in for questioning.

Egypt, meanwhile, is ignoring the call by heads of the March of Return coordination committee and Gaza residents to open the Rafah crossing to transport the protesters wounded and injured on Friday.

"We do not have enough beds in hospitals and clinics," Gaza spokesmen complained in interviews with Arab and foreign media. "We must transfer the injured to receive urgent treatment in Egypt or in any neighboring country."

Following Friday's clashes, Arab countries issued a series of condemnations against Israel, culminating in statements made by senior Palestinian official Dr. Nabil Shaath in Ramallah, who called IDF Chief of Staff Gadi Eisenkot a "murderer."

Official condemnations issued by the foreign ministries of Egypt, Jordan, Tunisia and Saudi Arabia were much less severe, and mainly called for de-escalation between Israel and Gaza.

Elior Levy, Matan Tzuri and Smadar Perry contributed to this article.