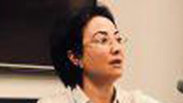 Zoabi at the UN
Photo: UNCA
Zoabi at UN: 'Millions of Palestinians should march on Jerusalem'
At UN press conference, Arab MK calls on West Bank Palestinians to join Gaza residents in protest, noting however that 'we can't do it, because the Israelis would kill them'; she further claims that 'the occupation and the siege are not an act of self defense, but rather one of terrorism.'
MK Hanin Zoabi (Joint List) called on the Palestinians in the West Bank to join the protests on the Gaza border during a press conference over the weekend at the United Nations headquarters in New York.

"We need to go on popular marches to remind the world of the siege," Zoabi said. "We need millions of Palestinians to march on Jerusalem. That is the aspiration. But we can't do it, because the Israelis would kill them."

Zoabi also claimed that "Israel has turned from a racist country to a fascist one," and demanded an investigation into the killing of protesters in Gaza border clashes.

"Israel is not defending itself as it is claiming, the occupation and the siege are not an act of self defense, but rather one of terrorism," she charged.

The Arab MK dubbed the Gaza residents' protests along the border with Israel "a march of peace," saying it is a "peaceful act of popular struggle" and stressed it is the only way for the Palestinians to liberate themselves from the Israeli occupation.

"We have popular resistance of women and children who want to put an end to the siege," she said. "Israel is opposed and kills Palestinians not because they endanger their soldiers. The children of Gaza don't want to be killed quietly without receiving any recognition from the world. They are sending a message that we are under siege, and we need to do something, and that is to march and remind the world about the siege. Our problem is the silence of the international community."

Zoabi talks about US recognition of Jerusalem as Israel's capital (צילום: unca)

Zoabi added that she doesn't see "what is violent about setting fire to a tire. Is burning a tire violence, while shooting at protesters not violence? Show me one Israeli who was hurt by these actions."

"Israel is only looking for an excuse to kill the Palestinians," she accused. "Stop buying the Israeli propaganda."

"I am a Palestinian," Zoabi declared. "They expect me to be loyal to the Zionists, while the only meaning of Zionism is to revoke my rights and to reject my identity."

Zoabi's remarks were criticized by Israel's Ambassador to the UN Danny Danon. "It's shameful and disgraceful that while IDF soldiers are thwarting attacks on the border, and the Israeli delegation to the UN is working to thwart unilateral diplomatic moves, a member of Knesset chooses to exploit her status to spread lies from the UN stage and support a terror organization calling for the annihilation of the State of Israel and using children as human shields," Danon charged, referring to Hamas.