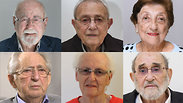 6 Holocaust survivors to light torch
Photo: Gov. Press Office
Holocaust Memorial Day will begin Wednesday at 8pm at the Warsaw Ghetto Square in Jerusalem's Yad Vashem Holocaust Museum, with the day's events collectively titled, "Holocaust survivors shape memory and build a state", interweaving with Israel's upcoming 70th Independence Day.

President Reuven Rivlin and Prime Minister Benjamin Netanyahu will speak at the ceremony inaugurating the day or remembrance, with six Holocaust survivors set to light torches to commemorate the the six million Jews murdered in the Nazi extermination program.

The first survivor participating in the ceremony is Miriam Lapid, born in 1933 in Deventer, the Netherlands, and the youngest child in her family.

After the Nazi occupation of the Netherlands, Miriam was forced to wear a yellow badge and was expelled from school. At the same time, the Germans confiscated Jewish homes, but when they arrived at Miriam's family home, they refrained from entering the home after seeing a message hung on the door saying that she was ill.

In April 1943, the family was taken to the concentration area of ​​Jews in Amsterdam, and in June its sons were deported to the Westerbork concentration camp. Only the eldest brother, who was in the Dutch underground, survived the deportation.


Lapid's father, Hermann, received an office job in Westerbork, thus obtaining a forged immigration permit for the family to come to Palestine, then under the British Mandate, and the family was able to be included in a list of prisoners to participate in a prisoner swap.

The family was sent to the Bergen-Belsen concentration camp in January of 1944 and incarcerated in a sub-camp whose denizens were to participate in the prisoner swap. Hermann Lapid perished in February, 1945.

On April 9, prisoners were marched towards a train station. Lapid's mother Batya had typhoid and could not walk, and Miriam's siblings were forced to carry her on their backs.

Miriam and her family boarded the train, and for the next two weeks it drove and stopped intermittently, with stops being used to bury those who had perished during the journey. On April 23, the train's passengers were freed by the Red Army on the outskirts of the village of Tröbitz in east Germany.

Months later, the family returned to the Netherlands, where Miriam joined a Zionist youth movement and later became a counselor and the movement's secretary. Miriam visited Jerusalem in 1950 as part of her role in the youth movement, studied Hebrew and became acquainted with the nascent country.

She made Aliyah in 1953, met her future husband Aki in the country and then joined the Tzora kibbutz in central Israel with him. She has been the manager of the kibbutz's secretariat since 1960.

Miriam and Aki had six children, who gave them 14 grandchildren. One of their sons, Ran, was an Israel Air Force helicopter pilot and El Al captain, and was killed in a plane crash in 2009.

When Ran was asked to ferry the German chancellor when he visited Israel, he said he would only do it if his mother approved, which she did, saying, "There's nothing greater for my son, an Israeli Air Force pilot, than to fly the German chancellor. That is my victory," she exclaimed.

The second survivor to light a torch is Shmuel Bogler, born in the Hungarian village of Bodrogkeresztúr in 1929 and the youngest of ten children. His father, Mordechai, was a trader and Shmuel worked in the family business.

Mordechai was arrested in 1941 following an anti-Semitic plot and was incarcerated for 18 months. Three of Shmuel's brothers were recruited to the labor service (Jewish men conscripted to forced labor during the war—ed), and one of them was murdered in Buchenwald a short time later, with the other two surviving in Soviet captivity.

Bogler and his family were sent to a ghetto in Sátoraljaújhely, Hungary, following the German army's invasion of the country in March, 1944. From the Hungarian ghetto, the family was sent to Auschwitz in Poland.

While both of Shmuel's parents and three of his cousins were killed in the death camp's gas chambers, he and his brother were sent to a nearby labor camp.

On January 31, 1945, Bogler and his brother were among the thousands of Jews forced by the Germans to march west. The two made it to Buchenwald, and were released shortly thereafter by the approaching American army.

Shmuel joined the religious-Zionist Bnei Akiva youth movement and transferred to Vienna, from where he continued to a displaced persons' camp in Germany and then went to Italy.

He boarded an olim (immigrant) ship in May, 1947, but it was stopped midway by the British, who directed its passengers to Cyprus. After four months in detention, Bogler came to Israel in October, 1947.

He joined the Palmach's religious division and fought for the defense of Gush Etzion, where he was captured by the Arab Legion in May of 1948. He was released after almost a year in the prisoner of war camp, and joined the Israel Police.

He went on to become an officer with the force, and to hold various senior positions including deputy commander of the police's southern district.

Today, he volunteers at Yad Vashem's Righteous Among the Nations department and translates testimonies of other survivors from Hungarian to Hebrew. He also recounts his own life story on a near daily basis to a wide variety of audiences.

Shmuel and his wife Shoshanna have two children, five grandchildren and three great-grandchildren.

Dr. Thea Friedman will be the third Holocaust survivor honored this year. Born in Chernivtsi, Romania, in 1924 as an only child, Thea and her aunt escaped the area when it was overrun by German and Romanian troops, but later returned to her home village.

The family was expelled to the Mohyliv-Podilskyi ghetto in 1941, with Thea's father sent to carry out forced labor while she held various clerical jobs for 150 grams of bread a day.

Friedman escaped the ghetto in December, 1942, and crossed the frozen Dniester en route to returning home. She attempted to find shelter in the homes of relatives and acquaintances but was turned down.

She finally found shelter in a couple's home but was caught in a surprise search. Having failed in her attempts to commit suicide, Friedman remained in custody and was sentenced to deportation to Transnistria in July, but was released thanks to a bribe paid by the local Jewish community.

She arrived in Bucharest near the end of 1943, where she met her future husband Yosef Friedman, who was incarcerated there as well. She was released in July of 1944, and Romania surrendered to the Soviet Red Army a month thereafter.

She married Yosef in 1950 and began working as a physician. Repeated requests to be allowed to come to Israel were denied, but in 1958—after eight years of being refused Aliyah—the Friedman couple and their son came to Israel.

Thea then worked as an ophthalmologist in northern Israel while she studied Hebrew in ulpan. Her family then moved to Ramat Gan, where she continued her practice and was later appointed head of an HMO (health maintenance organization)'s ophthalmology department.

Thea and Yosef, who has since passed away, have one son—a doctor like both his parents—and five grandchildren.

Israel-Raul Teitelbaum, the fourth survivor participating, was born in Prizren, Kosovo, in 1931, also only child. When the Nazis invaded Yugoslavia in April, 1941, his father—a doctor—was conscripted as a medical officer, and returned home when his country surrendered.

Teitelbaum's father was arrested, however, during the Italian occupation regime and sent to an Albanian detention center, where he was tasked with the camp's infirmary. The Teitelbaum family's apartment was appropriated by the Italian army, meanwhile, with Raul and his mother being thrown onto the street. They were taken in by friends, and Raul joined the Yugoslav underground.

When Italy surrounded in September of 1943, Albanian partisans liberated the camp in which Raul's father was detained and the family joined their ranks.

A German onslaught forced the partisans to retreat and the Teitelbaum family to seek shelter with some villages, before finally being forced to return to Prizren. Raul, 12 at the time, rejoined the city's resistance, disseminated flyers and participated in acts disrupting the German army's forces.

The Teitelbaum family was arrested in May of 1944 and sent to the Sajmište concentration camp, from where they were sent to the Bergen-Belsen concentration camp on April 9, 1945.

Days before the camp's liberation, the family and other prisoners boarded a train and were released by the Red Army on April 23. Raul contracted typhoid, however, and his father passed away in a Soviet hospital three days after the camp's liberation.

Raul and his mother came to Israel in 1949, where he joined the IDF and served as an officer in the Artillery Corps. He was discharged with the rank of major and later became a journalist, publishing hundreds of articles and investigative pieces on the Holocaust and the people who survived it, as well as about Israel's emerging economy and society.

Teitelbaum served on a court in an anti-trust tribunal and head of the Journalists' Association's ethics committee. Raul has been a prominent activist of the Holocaust survivors' umbrella organization—the Center Organizations of Holocaust Survivors—since its founding in 1987.

He is also one of the people who drafted the "survivors' manifesto", which calls for education on humanist values, democracy, human rights and tolerance and seeks to fight racism and totalitarian ideologies.

His books and research work were used by the state investigative committee on the rights of Holocaust survivors, which recommended to change Israel's official attitude towards those who survived and has transformed the lives of many of them who were in dire financial straits.

Raul and his wife, who has passed away, have two daughters and four grandchildren.

The fifth survivor is Issachar Dov Goldstein, born in Bratislava, Slovakia, in 1929—the third of five siblings. His father, Moshe-Shraga, was the local community's rabbi.

The family was persecuted by the anti-Semitic Slovak regime even before the German occupation of the country in the summer of 1944. Dov was a junior activist in a Jewish movement, where he learned of the fate of Jews in Poland.

His mother gave birth to another son, Eliezer, in the fall of 1944 and was taken prisoner by Germans—along with her daughter and infant son—shortly after. They were sent to Auschwitz and murdered.

Dov and his father, meanwhile, hid in a nook Dov built beforehand, but were eventually discovered by the Germans. They were taken to the Sereď concentration camp, and were also sent to Auschwitz the following week.

Dov's father was murdered in the camp's gas chambers not long after their arrival, while Dov himself was sent to one of the Buchenwald's sub-camps.

Throughout his time in the camps, Dov did his best to adhere to his Jewish faith. During the fesitval of Passover in 1945, for instance, a Jewish prisoner obtained some flour and took it to the shared dormitory, where prisoners were able to bake a single matzah over a can where a small fire was lit—enabling each prisoner to eat a small portion, upholding the holiday's basic tenets.

With the American army approaching, Dov and his friends were forced to take a death march and arrived in Buchenwald proper. Two days later, the camp was liberated by the US forces. Dov contracted typhus fever, however, and was hospitalized in an American hospital opened in the camp.

After he recovered, he returned to Bratislava where he discovered that his home had been entirely robbed and ransacked, with nothing left save his Jewish holy scriptures.

Dov joined an underground movement of Jews seeking to come to Israel and arrived in Italy with a group of Bnei Akiva activists. He boarded a ship to the country in August of 1946, but it too was stopped by British forces.

He was incarcerated for seven months at a Cyprus internment camp and then spent a month in a similar camp in Atlit after he was released from the first one. After his release, he settled in the agricultural village of Birya in northern Israel and fought in the War of Independence, later to become one of the founders of the Ein Tzurim kibbutz.

Dov founded a Bnei Akiva yeshiva in Be'er Sheva and taught Talmud there for years, while also serving as a tour guide for students and tourists nationwide. In the nineties, he was the community rabbi and shochet (a person who performs the Jewish slaughter of animals for food) of the Jewish community of Košice, Slovakia.

Dov, like Shmuel Bogler, also recounts his travails during the war to teenagers and accompanies groups of students to Poland.

He and his wife, Shulamit, have three children, seven grandchildren and four great-grandchildren.




The last survivor is Abba Naor, born in Kaunas, Lithuania, in 1928 to a traditional family of five people. Two months after the German invasion in August, 1941, the Kaunas ghetto was created and the Naor family was sent there.

During their stay in the camp, Abba would steal into the city proper in search of food while his eldest brother, Chaim, was caught and murdered while on the same errand.

Abba and his family survived several German culls of the Jewish population and he instructed his brother to practice hiding in a brick oven—saving his life during a roundup of children in March, 1944.

In July of the same year, however, the Naor family was transferred to the Stutthof concentration camp, where they were separated. The father was taken to a Dachau sub-camp to be a forced laborer, whereas the youngest sibling and mother were sent to Auschwitz.

"As soon as I saw my mother and brother marching towards the train," Abba recounted, "I realized I can bid them farewell forever."

Abba was employed in construction, digging and driving a diesel locomotive in the Dachau camp. When Germans sought a volunteer in early 1945 to work digging underground bunkers in the Kaufering concentration camp, Abba volunteered—believing his father was taken there and hoping to rejoin him. His father was not there.

Prisoners were sent on a death march in April 24 and Abba marched without food or water, in the rain and snow, feeding on weeds from the roadside. On May 2, when marchers awoke they found their German captors gone. A short time later, American troops announced they were freed.

Abba arrived at a displaced persons' camp in Munich and located his father several months later, and the two went to Poland. In Łódź Abba joined a Jewish group and boarded a ship headed for Palestine alone in 1946. The ship was again seized by the British and he was sent to Cyprus, where he trained others in self defense and taught them Hebrew.

Abba finally came to Israel in 1947, where he fought in the War of Independence. He went on to work for Israel's counter-terrorism unit, the Shin Bet, and also worked at the Weizmann Institute in Rehovot and the Mossad. During 1984-1985, he participated in Operation Moses, as part of which 5,000 Ethiopian Jews were taken from Sudanese refugee camps to Israel using Israeli Navy ships and Israeli aircrafts.

Naor later managed a Jewish retirement community in Hanover and lectures in German schools about his experiences in the Holocaust, while also participating in ceremonies held in the Bavaria region that relate to either Dachau specifically or the Holocaust in general.

Abba and his wife Leah, who has since passed away, have two children, five grandchildren and eight great-grandchildren.