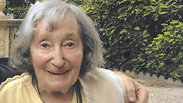 Grandmother survived the Holocaust, lost her life to anti-Semitism
85-year-old Mireille Knoll was stabbed to death in her Paris apartment by her Muslin neighbor, who she had known since he was a child. Despite the tragedy, her granddaughter Keren—an intelligence officer in the IDF—continues believing in a world in which people won't lose their lives just because they were born Jewish.
When we were living in France, we would often spend time with grandmother Mireille. We used to meet with her a few times a week. She walked with us through Luxembourg Gardens, bought us ice cream—with whipped cream, since this is the only way to eat ice cream—took us to movies, shows, museums and a lot of other places.

Grandmother knew how to live and loved to live. She was a pretty woman, with lots of class, and as such had many suitors. After her husband, grandfather Curt—who survived the Auschwitz-Birkenau death camp—had passed away, she had romantic relationships with others. She spent five years with her last partner. He passed away at the age of 94 and to his last day, they enjoyed themselves, went out, laughed and took advantage of everything life has to offer.

We left France in 1997 and immigrated to Israel. My big sister Noa—who was 14 at the time—was picked on at school. Not necessarily out of anti-Semitism, but mom knew it would come sooner than later. Noa immigrated alone first and stayed with my grandparents from my mom's side in Tel Aviv. My mom and her partner Moris, my sister Jessica and I joined her six month later.

I remember my mom asking me when I was seven: "Keren, would you like to move to Israel?" For me, Israel was a vacation; the beach, the sunshine and the pitas my grandfather would make me.

But the reality that awaited us wasn't easy. I didn't know Hebrew, I felt like a stranger, kids ostracized me. One day I came home and told my mom to pack up, and that we were moving back to France.

But I didn't give up. I joined the IDF and became a commander at a Intelligence Corps' boot camp. My experiences as a commander of three recruiting cycles—with all subordinates being older than me—shaped me and have made me what I am today. I went on to officers' course and served in several positions in the army.

This year, I'm marking a decade in the IDF, still excited about saluting the Israeli flag. During my service, I've concluded my BA in criminology, got married, finished my MA in consulting and organizational development, and gave birth to two children—a boy and a girl.

Today I serve as an officer in the IDF Intelligence Corps.

For grandmother Mireille, I was "the IDF officer granddaughter." She wouldn't stop telling her friends stories about me, she was so proud. As far as she was concerned, I was in the elite Sayeret Matkal force.

One of the suspects in my grandmother's murder is called Yassin, and I've known him since I was seven. As a boy, he was paid to help my grandmother do her shopping. 20 years later, she still stayed in touch with him. She loved him like a son; she would open her door when she heard him going up the stairs and would catch up with him.

Grandmother saw only the good in the world. She wasn't like those people who watch the news and complain about all the awful things around them. She enjoyed watching the "Bold and the Beautiful" and listening to Mike Brant's songs. The truth is that she was madly in love with Mike Brant, and the fact that he's one of ours only helped.

In 1942, when she was a 10-year-old child, my grandmother was rescued from the deportation of Jews from Paris and wasn't sent to an extermination camp. She survived the Holocaust and was murdered because of anti-Semitism. In the Facebook post I wrote after her death, I said that she didn't deserve to die like she did. But her story is far from being over. It's important for us that the world knows what happened to her and who she was.

I try to picture her last minutes, the look in her eyes, the lack of understanding of what's happening, the huge question mark she must have had while silently asking why.

With this feeling I go to sleep, and with this feeling I wake up.

This story won't leave me, it won't leave either of us. It will live through us and will become a part of us. We will never forget grandmother Mireille.

We will continue praying for a better world; continue educating our children to build a better future for themselves, while hoping people no longer have to lose their lives only because they were born Jewish.