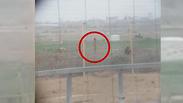 The incident took place December of last year
Palestinian in shooting video: 'Shameful soldiers laughed at me'
Tamer Abu-Daka of Khan Yunis alleges in interview he was Palestinian shown being shot during December protest near Gaza fence, with IDF soldiers cheering on; 'I saw the video maybe 50 times, and fume every time. They're animals,' he accuses.
Tamer Abu-Daka, the Palestinian claiming to be the one appearing in a video showing an IDF sniper shooting a protester, while other soldiers whooped and cheered, said, "I don't care they shot me in the leg. All I care about is the soldier mocking me and cursing my mother. It's shameful."

Abu-Daka, 28, of Khan Yunis, provided Ynet with his own account of the incident, which appeared in a controversial video published earlier this week.

Footage of the shooting incident

The Palestinian claimed the shooting took place December, 22, 2017. "It was a non-violent march against (President Donald) Trump's decision to recognize Jerusalem as Israel's capital," he recounted, adding that he arrived to the border fence's area with his friends.

"Protesters were throwing rocks and soldiers returned fire. Some young people stood 20 meters ahead of me. I got near them and began shouting at them to turn back. I stood my ground, and was then shot in the leg," he claimed.

None of the protesters present were armed, Abu-Daka alleged, and he himself was not throwing rocks as he was shot. After falling down, he was taken to hospital and hospitalized. Today he uses crutches to walk, and his right leg is in a cast.

"I saw the video maybe 50 times, and fume every time I hear them laughing as I go down. They're shooting at us—but that's not a solution. They say we're the terrorists, but in fact they are. They behave like animals. They're the terrorists," he accused.

Concluding his remarks, Abu-Daka said he has made it a point to attend to "March of Return" protests on Fridays, but claimed strongly he has kept his distance from the fence out of fear of being shot again.
IDF: 'Palestinian was warned before being shot'
The IDF's probe into the incident showed that, "The video showed only a small portion of (the forces') handling of a protracted violent riot, which included stone throwing and attempts to sabotage the fence, and which lasted some two hours."

The army's statement continued, "Multiple measures were taken to disperse rioters throughout, including using public address to order them to stop, deploying crowd control measures and firing into the air.

"Once these steps proved inefficient, a single bullet was fired at one of the suspects of organizing and spearheading the protest while he was meters away from the fence. As a result, he was struck in the leg and subsequently wounded.

"The video was not filmed from the exact position from which the fire emanated, and was shot by a soldier who is not an organic part of the force that fired. After completion of the full operational inquiry by the relevant chain of command, its findings will be submitted, as is the norm, for inspection by the Military Advocate General.
Lieberman: 'Sniper deserves promotion, cameraman deserves demotion'
Defense Minister Avigdor Lieberman said regarding the matter Tuesday that, "The sniper deserves promotion, whereas the cameraman deserves demotion. There has to be a clear equation. IDF is the world's most moral army, but when you're on the frontlines and under considerable stress, sometimes aggressions are let loose. That's understandable. At the end of the day, the army, snipers and soldiers—they're the best of us, and the IDF is the most moral army."

Bayit Yehudi chief Naftali Bennett, meanwhile, said that same day in a Ynet studio interview that, "First of all, I'm throwing my support behind the IDF's soldiers. I will not be dragged into a festival of denunciations when people don't know what went on, when it happened and what the circumstances were."

"Since when do we judge soldiers by the elegance of their speech? I prefer a whooping soldier to a grieving father," he stated.

The minister continued, "You can hear jubilant calls of 'Yes' in the air force's headquarters after a successful mission, even if enemy soldiers were killed. Because they succeeded in their mission.

"We send IDF soldiers to defend our borders from the thousands of terrorists who want to come in and slaughter us, and we mustn't get lost in the bigger picture. Right now, I'm placing my trust with commanders. They will carry out an inquiry, and I won't have that soldier judged in the media's court."