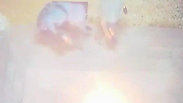 Aronists caught on camera
Photo: Zacharia Sadeh
Arsonists filmed setting a mosque door alight near Nablus
Muslim worshippers arrive at West Bank mosque to find a burnt front entrance, along with 'Price tag' sprayed next to it, and 'revenge' scrawled on a wall, in what security forces suspect was a hate crime; incident takes place as Gazans prepare to storm the Israel border for a third consecutive week.
Two assailants were captured on security camera overnight Thursday setting fire to the front door of a mosque near Nablus, in was is likely a hate crime.

In the CCTV footage, recorded directly above the door, the arsonists can be seen approaching the entrance of the mosque in the village of Kfar Aqraba, and covering it with flammable substances before throwing a match as flames engulf the door.

The incident took place at around 2am, but was only discovered as worshippers arrived at the mosque three hours later.

CCTV footage of the arsonists

The flames were eventually extinguished by themselves due to the fact that the carpet that covers the entire floor of the mosque did not catch fire.

Suspicions were raised further that the fire had been lit as part of a hate crime, with worshippers discovering the words "Price Tag" in Hebrew scrawled next to the door, while on another wall , the assailants had sprayed in Hebrew the word "revenge."

Police forces and the army prepared Friday morning to enter the site to investigate the matter further.

Over the last few years, no mosques have been set alight in the West Bank in hate crimes, making Thursday night's attack extremely unusual.

In the last few months, most of the tension between members of the Hilltop Youth—a hard-line nationalist group who establish haphazard outposts without Israeli backing in the West Bank—and Israeli security forces has stemmed from restraining orders and the prohibition placed on administrative meetings in the West Bank.

In addition, tensions have mounted with the continuation of the evacuation of illegal outposts in the area where the Hilltop Youth positioned themselves.

Last Monday, the outpost of Maoz Esther was evacuated, along with Geulat Zion and others near Itamar. At the same time, the wave of incidents involving tire punctures and "price tag" attacks around the issuing of the orders has increased

The setting fire to the mosque door took place hours before the renewal of planned protests in Gaza, the third week that residents of the coastal enclave have marched on the border with Israel, with the last two turning violent and prompting IDF soldiers to open fire.

The Palestinians are expected to protest in five places spanning the border, with emphasis this week being on burning Israeli flags and tires. Last week, the protesters burned thousands of car tires in the second of what they have called the March of Return.