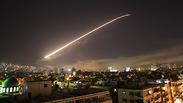 US, UK and France attack in Syria
Photo: AP
The United States, the United Kingdom and France fired more than 100 missiles at Syria early on Saturday in response to a poison gas attack that killed dozens of people last week, in the biggest intervention by Western powers against Syrian President Bashar Assad.

US Defense Secretary Jim Mattis and Marine General Joseph Dunford said three main chemical weapons facilities were targeted at 4am local time (1am GMT) by missiles from both the sea and aircraft, which triggered Syrian air defenses. Mattis said there were no reports of US losses.

The Pentagon could not confirm how many missiles hit their targets.

Western strike in Syria

US President Donald Trump said the US is prepared to sustain economic, diplomatic and military pressure on Assad until he ends what the president called a criminal pattern of killing his own people with internationally banned chemical weapons.

"The evil and the despicable attack left mothers and fathers, infants and children, thrashing in pain and gasping for air. These are not the actions of a man; they are crimes of a monster instead," Trump said.

US President Donald Trump in address to the nation following Syria strike

A US official familiar with the military planning said there could be more air strikes if the intelligence indicates that Assad has not stopped manufacturing, importing, storing or using chemical weapons, including weaponized chlorine.

The official acknowledged that could require a more sustained US air and naval presence in the region, as well as intensified satellite and other surveillance of Syria.

Mattis, however, said the assault was a "one-time shot," so long as Assad does not repeat his use of chemical weapons.

"If it is finished, and there is no second round, it will be considered limited," a US official told Reuters.

Mattis and Dunford acknowledged the strike was designed to degrade Syria's chemical weapons capability without killing civilians or the many foreign fighters in Syria's multi-sided civil war, particularly those from Russia.

"We specifically identified these targets to mitigate the risk of Russian forces being involved," Dunford told reporters, adding the US military advised Russia of airspace that would be used in the strike but did not "pre-notify them."

The strikes were carried out by manned aircraft and from ships that launched cruise missiles from the Mediterranean Sea.

Mattis acknowledged that the US had not yet confirmed that the most recent suspected Syrian chemical weapons attack, on April 7 in the Damascus suburb of Douma, included the use of sarin gas. He said at least one chemical was used -- chlorine, which also has legitimate industrial uses and had not previously triggered a US military response.

Allegations of Assad's chlorine use are frequent in Syria's conflict, raising questions about whether Washington had effectively lowered the threshold for military intervention.

Last year, the United States only waged strikes in Syria after determining that more deadly sarin gas was used. Some US media had said Washington was confident Assad had also used sarin on April 7.

Mattis, however, suggested the evidence of sarin was so far inconclusive.

"We are very confident that chlorine was used. We are not ruling out sarin right now," Mattis said.

Syrian state TV called the attacks a "blatant violation of international law and shows contempt for international legitimacy."

"Good souls will not be humiliated," Syria's presidency tweeted after the airstrikes began.

The Syrian government and its allies said they have "absorbed" the strike, adding that the targeted sites were evacuated days ago thanks to a warning from Russia.

"We had an early warning of the strike from the Russians ... and all military bases were evacuated a few days ago," a senior official in a regional alliance that backs Damascus told Reuters. Around 30 missiles were fired in the attack, and a third of them were shot down, the official claimed.

Video purporting to show Syrian interception of Western missiles

"We are carrying out an assessment of the material damages," the official added.

The Syrian conflict pits a complex myriad of parties against each other with Russia and Iran giving Assad military and political help while fractured opposition forces have had varying levels of support at different times from the West, Arab states and Turkey.

The strikes risked raising tension in an already combustible region but appeared designed not to trigger a military response from Russia and Iran.

The United States, Britain and France have all bombed the Islamic State group in Syria for years and had troops on the ground to fight them, but refrained from targetting Assad's government apart from a volley of US missiles last year.

Although the Western countries have all said for seven years that Assad must leave power, they held back in the past from striking his government with no wider strategy to defeat him.

The bombing represents a major escalation putting the West in direct confrontation with Assad's superpower ally Russia, but is unlikely to alter the course of a multi-sided war which has killed at least half a million people in the past seven years.

That in turn raises the question of where Western countries go from here, after a volley of strikes denounced by Damascus and Moscow as both reckless and pointless.
Carefully selected targets
Mattis said the targets selected by US, British and French officials were meant to minimize civilian casualties. "This is difficult to do in a situation like this," he said, in light of the volatility of chemical agents.

The Pentagon said one of the targets was a scientific research center located in the Barzeh district of Damascus, which it described as a Syrian center for the research, development, production and testing of chemical and biological weaponry.

Syrian state media said the US-led air strikes caused material damage only at the scientific research center, destroying a building that includes a learning centre and laboratories.

The second target was a chemical weapons storage facility west of the city of Homs. "We assess that this was the primary location of Syrian sarin and precursor production equipment," Dunford said.

The third target, which was also near Homs, contained both a chemical weapons equipment storage facility and a command post.

"The missiles that targeted a military position in Homs were thwarted and diverted from their path, and injured three civilians," Syrian state news agency SANA reported.

US officials said there was no indication so far that Syrian air defenses struck attacking Western aircraft or ships.

"We were very precise and proportionate," Mattis said. "But at the same time, it was a heavy strike."




A commander in the regional military alliance that backs Assad told Reuters the al-Shirai air base in al-Dimas, west of Damascus and near the Lebanese border, was one of the strike's targets.

The attack also hit a site in Masyaf, about 170 km (100 miles) north of Damascus, army depots in the eastern Qalamoun region northeast of the capital, the Kisweh area south of Damascus, and a site in the Qasyoun hills overlooking the capital, he said.
May: UK had no choice but to launch strike
British Prime Minister Theresa May said in London that the West had tried "every possible" diplomatic means to stop Assad from using chemical weapons. "But our efforts have been repeatedly thwarted" by Syria and Russia, she said.
"We would have preferred an alternative path. But on this occasion there is none," May said.
"So there is no practicable alternative to the use of force to degrade and deter the use of chemical weapons by the Syrian regime," she added. "This is not about intervening in a civil war. It is not about regime change."
British Prime Minister Therea May comments on Syria strike
Four Royal Air Force Tornado jets using Storm Shadow missiles had taken part in the attack on a military facility near Homs, where it was assessed Syria had stockpiled chemicals, Britain's Ministry of Defense (MoD) said.
Britain's MoD said initial indications were that the precision weapons and meticulous target planning had "resulted in a successful attack," which May cast as a "limited and targeted" strike.
The British defense ministry said "very careful scientific analysis" had been applied to maximise the destruction of stockpiled chemicals while minimizing any risk of contamination to surrounding areas.
"The facility which was struck is located some distance from any known concentrations of civilian habitation, reducing yet further any such risk," the MoD said in a statement.
Defense Secretary Gavin Williamson said the mission had been highly successful and implied that no further action was imminent.
"We don't expect that we'll be a position where we're having to make further strikes," he told LBC radio. "We believe that the strikes we have taken last night had a significant impact in terms of what the Syrian regime can do in the future."
May said while the strike was targeted at Syria, it sent a message to anyone who used chemical weapons. Britain has accused Russia of being behind last month's nerve agent attack on former Russian spy Sergei Skripal and his daughter in Salisbury, southern England, a charge Moscow has rejected.
"This is the first time as prime minister that I have had to take the decision to commit our armed forces in combat, and it is not a decision I have taken lightly," she said.
"I have done so because I judge this action to be in Britain's national interest. We cannot allow the use of chemical weapons to become normalized within Syria, on the streets of the UK, or anywhere else in our world."
Macron: Strike targeted Assad's clandestine chemical arsenal
French President Emmanuel Macron said in a statement that a target of the strike was the Syrian government's "clandestine chemical arsenal."
"We cannot tolerate the recurring use of chemical weapons, which is an immediate danger for the Syrian people and our collective security," a statement from the Elysee presidential office said.
French fighter jets take off for Syria strike
"On April 7, dozens of men, women and children were massacred in Douma, with the use of a chemical weapon in a total violation of international rules ... The red line established by France in May 2017 was crossed," Macron said.
He added that the facts and the responsibility of the Syrian regime were beyond doubt.
Macron, who tweeted a picture of himself in a meeting room with military and diplomatic advisers, said a debate about France's military involvement would take place in parliament.
While there had been general public warnings broadcast by US President Donald Trump, Macron himself and other Western leaders, a French presidency source clarified that the French leader did not tell Russian President Vladimir Putin the allies would strike overnight when they talked over the phone on Friday.
Regular "deconfliction" contacts were made with the Russian military once the operation had been kicked off to make sure that they would not be accidentally hit, the source said.

France's Defense Minister Florence Parly said the French military sent fighter jets from multiple bases in France and used missile-equipped frigates in the Mediterranean in the operation.
"We are not looking for confrontation and refuse any logic of escalation, that is the reason why we, with our allies, ensured the Russians were warned beforehand," Parly told journalists in a short statement alongside Foreign Minister Jean-Yves Le Drian.
Le Drian said the operation did not target Syria's allies or civilians but Assad's government because of its alleged use of chemical weapons.
"It was limited to specific objectives: the destruction of the Syrian regime's chemical capabilities to stop it from committing new chemical massacres," he said.
According to a French presidency source, French Mirage and Rafale fighter jets were involved in air strikes on Syria together with four frigate warships.
This included an air defense frigate, three multi-mission frigates, Mirage 2000 jets, Rafale, AWACS (Airborne Warning and Control System) and support and supply assistance, the source said.
The French military fired 12 missiles during its air strikes on Syria, defense ministry officials said, adding there was no indication the missiles had been intercepted.
Twice as many weapons as last year's strike
Mattis and Dunford characterized this year's strikes as more significant than the one waged last year, saying double the number of weapons were used this time.

Last year, 59 Tomahawk cruise missiles fired from the guided missile destroyers USS Porter and the USS Ross struck Syria's Shayrat air base.

The targets of that strike included Syrian aircraft, aircraft shelters, petroleum and logistical storage facilities, ammunition supply bunkers, air defence systems and radar.

At the time, the Pentagon claimed that a fifth of Syria's operational aircraft were either damaged or destroyed.

Last year's US strike was meant to deter Assad from further use of chemical weapons. Since that did not work, a more intense attack would aim to degrade his ability to carry out further such attacks, and would try to do this by hitting Syrian aircraft, military depots and chemical facilities, among other things.

Although Syria's military had moved aircraft and other military assets in the days preceding Friday's strike, Dunford said he did not believe it had moved chemical weapons materials.

Mattis added that the US expects the Syrian government and its allies to conduct a "significant disinformation campaign," which the Pentagon would rebut with additional information Saturday morning.

The air campaign could frustrate those in Trump's base who oppose military intervention and are wary of open-ended conflicts.

Trump chastized Syria's two main allies, Russia and Iran, for their roles in supporting "murderous dictators."

"To Iran and to Russia, I ask, what kind of a nation wants to be associated with the mass murder of innocent men, women and children?" Trump said.

The US president noted that Russian President Vladimir Putin had guaranteed a 2013 international agreement for Assad to get rid of all of his chemical weapons. He called on Moscow to change course and join the West in seeking a more responsible regime in Damascus.

"Russia must decide if it will continue down this dark path, or if it will join with civilized nations as a force for stability and peace," Trump said. "Hopefully, someday we'll get along with Russia, and maybe even Iran -- but maybe not."
Russia to call UN Security Council meeting
Russia's military said 71 out of 103 cruise missiles launched by the US and its allies were intercepted by Syrian government air defense systems using Soviet-made air defense missile systems with high efficiency, shooting down all of the missiles aimed at four key Syrian air bases.
Col. Gen. Sergei Rudskoi of the Russian military's General Staff said the strike hasn't caused any casualties and Syrian military facilities targeted by the US, Britain and France have suffered only minor damage.
He said the Russian air defense assets in Syria monitored the strike but didn't engage any of the missiles.
The Russian Ministry of Defense said none of the air strikes hit zones where Russian air defense systems protect the Russian bases of Tartus and Hmeimim.
Col. Gen. Rudskoi noted that Russia in the past refrained from providing Syria with its state-of-the-art S-300 air defense missile systems on Western prodding but could reconsider it now.
The Russian ambassador to the US, Anatoly Antonov, condemned the airstrikes and warned that "such actions will not be left without consequences."
Russia, which intervened in the war in 2015 to back Assad, has denied there was a chemical attack and has accused Western nations of staging the Douma incident to stoke anti-Russian hysteria.
The chairman of the international affairs committee of Russia's upper house of parliament, Konstantin Kosachev, described the attacks as groundless attack on a sovereign government, saying the strikes were a violation of international law and are likely meant to prevent investigators from the global chemical weapons watchdog from doing their work.
"It's also highly likely an attempt to create complications for the Organization for the Prohibition of Chemical Weapons (OPCW) mission, which was just starting its work in Syria's Douma, or an attempt to completely derail it," Kosachev was quoted as saying.
A team of inspectors from the OPCW arrived in Syria on Thursday and Friday and had been expected to start their investigation into the alleged Douma attack on Saturday.
The OPCW did not immediately respond to a request for comment on whether the work would go ahead.
Russian lawmaker Vladimir Dzhabarov said Moscow was likely to call for a meeting of the United Nations Security Council to discuss the strike.
"The situation is being analyzed right now. Russia will demand a meeting of the UN Security Council, I think, for sure," Dzhabarov, who is the deputy head of Russia's foreign affairs committee, was quoted by RIA as saying.
A broader question is whether the allied attacks are part of a revamped, coherent political strategy to end the war on terms that do not leave Assad in power.
The strikes appear to signal Trump's willingness to draw the United States more deeply into the Syrian conflict. Just weeks ago, Trump said he wanted to end US involvement in Syria and bring American troops home to focus on the homeland. The participation of British and French forces enables Trump to assert a wider international commitment against the use of chemical weapons, but the multi-pronged attack carries the risk of Russian retaliation.
In his nationwide address, Trump stressed that he has no interest in a longtime fight with Syria.
"As other nations step up their contributions, we look forward to the day when we can bring our warriors home," Trump said. "And great warriors they are."
The US has about 2,000 troops on the ground in Syria as advisers to a makeshift group of anti-Islamic State fighters known as the Syrian Democratic Forces. They are in eastern Syria, far from Damascus. A US-led coalition has been conducting airstrikes in Syria since September 2014 as part of a largely successful effort to break the ISIS grip on both Syria and Iraq.
"America does not seek an indefinite presence in Syria, under no circumstances," Trump stressed.
"The purpose of our actions tonight is to establish a strong deterrent against the production, spread and use of chemical weapons," he said.
Jarrod Agen, Vice President Mike Pence's deputy chief of staff, said Pence called congressional leaders from his hotel suite in Lima, Peru, to notify them of the president's plan to address the nation about the Syrian air strikes.
Opposition to strike in Britain
In Britain, many politicians, including some in Prime Minister May's own Conservative Party, had called for parliament to be recalled from a break to give authority to any military strike.
Former Prime Minister David Cameron lost a parliamentary vote on air strikes against Assad's forces in 2013 when 30 Conservative lawmakers voted against action, with many Britons wary of entering another conflict after intervention in Iraq, Afghanistan and Libya failed to bring stability to the region.
May is not obliged to win parliament's approval before ordering military action, but a non-binding constitutional convention to do so has been established since a 2003 vote on joining the US-led invasion of Iraq.
A YouGov poll for The Times newspaper this week indicated that only a fifth of voters believed that Britain should launch attacks on Syrian military targets and more than two-fifths opposed action.
Opposition Labour leader Jeremy Corbyn had said Britain should press for an independent UN-led investigation into the suspected chemical attack in Douma rather than wait for instructions from Trump on how to proceed.
Former Labour foreign secretary David Miliband, now head of humanitarian relief group the International Rescue Committee, said military action needed to be part of a wider political strategy.
"Bombing cannot substitute for diplomacy," he said.