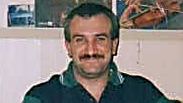 Emad Levy, the last immigrant from Iraq
The last Jew who made aliyah from Iraq
Born and raised in Baghdad, Emad Levy experienced the vibrant life of the city's glorious Jewish community. After serving as the community's leader, rabbi and slaughterer, he finally decided to immigrate to Israel in 2010, but he is still in touch with the five Jews left behind.
Emad Levy, 52, used to do everything in Iraq's shrinking Jewish community: He was the rabbi, the slaughterer, the communal leader and the man who helped each member with every single Jewish-related issue they needed help with.

Growing up in Baghdad, he experienced the vibrant community life, when thousands of Jews lived in the city and led a Jewish life under the local regime.

Click here for the full project

"I think a lot changed in the 1970s. It was a terrifying period. There were Jews who simply disappeared and we didn't know what had happened to them, and many others chose to leave and come to Israel," he says.
Escaping with one suitcase
Since then, the number of Jews in the country gradually decreased, and those who remained began keeping a low profile and observing the Jewish holidays and customs in a modest manner.

"In 2003, I became the community leader. I traded in shoe materials for a living and managed to support myself, and simultaneously, I was in charge of everything that had to do with the Jewish life," he says.

"After the slaughterer left, I learned how to slaughter according to Jewish law, so we would be able to eat kosher meat. I took care of issues related to Jewish burial and tried to help the community members with different issues as much as I could."

How did you make the decision to leave for Israel?

"I wanted to leave a long time ago, during the Saddam Hussein era, but I was targeted by the Iraqi intelligence at the time and couldn't leave the country. I knew I wanted to leave because I wanted to start a Jewish family. I was born as a Jew and I will die as a Jew, and I knew I would be able to establish a real family only if I left Iraq.

"In 2010, after receiving death threats from local elements, I knew it was time to leave. With one suitcase, leaving everything behind, I flew to Jordan and from there to Israel."
A community of 5 people
After surviving six terror attacks in Baghdad, the situation became unbearable and Levy decided to leave, becoming the last immigrant to arrive in Israel from Iraq.
"I had a passport issued, and the Jewish Agency together with the Babylonian Jewish Heritage Center got me a flight to Jordan," he says. "I arrived in Israel on Hoshana Rabbah (the seventh day of the holiday of Sukkot)."
The person who was largely responsible for Levy's aliyah is Israel Prize laureate Mordechai Ben Porat, the founder of the Babylonian Jewish Heritage Center, who had immigrated to Israel from Iraq himself.
What is left of Iraq's Jewish community?
"There are five Jews in the country today, and one woman is the community director. I keep in touch with them in different ways, and they're taking care of themselves."
What does Iraq look like today?
"It looks very bad. The local regime is unstable and weak, and the situation has greatly deteriorated. There are no basic civilian services and it doesn't feel like a law-abiding state. Compared to previous years, the situation is very bad."
Levy's story has a happy ending: He fulfilled his dream to create a Jewish family. After arriving in Israel, he got married and had a child.
"While I was still in Iraq, I started dealing with pain treatment, and here in Israel I completed my studies and became on expert on the issue. I am certified in healing and massage and I'm very satisfied, both with life in Israel and with the fact that I get to help people through my profession."