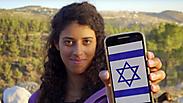 Poll shows Israel's youth less Zionist than elders
World Zionist Organization polled public's attitude towards Zionism; 95% of Israelis over 50 self describe as Zionist, while only 75% of those over 29 feel the same; almost half of Haredim identify as Zionists; respondents said Zionist Federation should invest in combating anti-Semitism, Aliyah, unity among Jews, strengthening Zionist ideals, education and settlements enterprise, in that order.
Ahead of Israel's 70th Independence Day, the World Zionist Organization solicited a survey, conducted by the Smith Research Institute on a representative sample of Israel's Jewish population, to determine the public's attitude towards Zionism.

The survey's results show that 86% of Israeli Jews consider themselves Zionists. For those 50 years old or older, the rate was even higher, at 95%. Among the country's youth, however—below the age of 29—it was markedly lower at 75%.




Native Israelis, or Sabras as they are colloquially known, and new immigrants feel themselves to be Zionists in equal measure—86-87%. Perhaps a more interesting statistic is that 45% of Haredim consider themselves Zionists, while among the general religious population the rate is 95%.

As for gender differences, 38% of women ascribed importance to strengthening Zionist ideals, while only 20% of men felt so.

A whopping 88% of respondents agreed that activities to strengthen Zionism in Israel and the world are important. About half, 48%, thought that Zionist organizations need to invest in activities, both in Israel and abroad, in equal measure.

About a third of respondents felt that it was more important to invest the lion's share of resources among the Diaspora Jewish communities, while only 8% felt that their main focus needs to be in Israel.

Participants were also asked which sector they believed the Zionist Federation needed to focus on the most: 47% said combating anti-Semitism, 43% said the focus should be on encouraging Aliya to Israel, 34% said that promoting unity among the various denominations of Judaism was where the focus should be, 29% believed that they should work on strengthening Zionist ideals in Israel, 19% felt that education and strengthening the Hebrew language should be of priority, and 12% responded that the federation should work to strengthen the settlement enterprise.

Left of center respondents mentioned the fight against anti-Semitism and unity among the different denominations as activities worth focusing on, while those on the Right mentioned strengthening the settlements as being most important.

Chairman of the World Zionist Organization, Avraham Duvdevani said, "As a rule, the data indicates a strong identification with the state and its values, both among veteran residents of Israel and those who immigrated in recent years.

"The relatively low level of Zionist feeling among the youth, however, is disconcerting. We call on more and more Israelis to be part of us and to embark on a mission in the Diaspora."