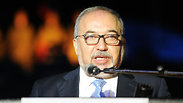 Defense Minister Lieberman
Photo: Avi Roccah
Defense Minister Avigdor Lieberman stressed on Monday military preparedness and security will need to be bolstered, taking the cue from Iranian Foreign Ministry Spokesman Bahram Qassemi who threatened just hours prior that Israel will regret the "misdeed" of striking at the T-4 Airbase in Syria—an attack which claimed the lives of seven Iranian soldiers.

"This is a strategic challenge of the first order, which obligates all of us, the IDF and the defense establishment, to step up and further strengthen preparedness," Lieberman said to members of the IDF General Staff at an event marking Israel's upcoming Independence Day.


"We are facing a new reality—the Lebanese army, in cooperation with Hezbollah, the Syrian army, the Shiite militias in Syria and above them Iran—are all becoming a single front against the State of Israel," Lieberman cautioned.

This came after Qassemi was stated saying, "Gone are the days when the Zionist regime would hit and run. The resistance forces and Syria can defend their territorial integrity and national sovereignty," he asserted.

He then asserted that Israel will "sooner or later receive the necessary responses to its recent crime and aggression."

Tensions between Israel and Iran have spiked ever since the airstrike—"the first time (Israel) attacked live Iranian targets—both facilities and people," as confirmed Monday by a senior IDF official in an interview with the New York Times.

The IDF was girding itself for an Iranian retaliation, the Times article said, but expected it to be proportional and measured. If such a retaliatory strike carried a toll of Israeli lives, however, tensions may spill over in the already combustible region.

Several moves undertaken last week attested to the Iranian determination to retaliate, Friedman said. First is the Iranian admission that its officers were killed in the original strike and their intentionally public and publicized funeral in Tehran—contrary to previous instances of Iranian casualties being severely downplayed by the Islamic republic.