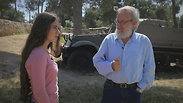 Yossi Sidkoni and his granddaughter on Ammunition Hill
Photo: Tal Shimoni
Veteran recounts bloody Battle of Ammunition Hill
After losing 36 of his comrades in a single battle, Yossi Sidkoni says he had difficulties revisiting the battleground for months; now, he accompanies his granddaughter in the trenches of Ammunition Hill, recounting the fight that almost cost him his life.
More than 50 years after the Six-Day War, Yossi Sidkoni arrived in Jerusalem earlier this week to recount to his granddaughter the Battle of Ammunition Hill—an assault on a fortified Jordanian military post in the then Jordanian-ruled east Jerusalem where 36 members of his company lost their lives.

"When you go to war, you become, to a certain extent, a robot," he said. "I knew that my friends were hurt, but I did not have the time to see who or how many were wounded."

Sidkoni, a paratrooper, was training just two weeks prior to parachute in El Arish in an effort to take Tel Aviv.




"Suddenly they informed us that the mission had changed and we had to go up to Jerusalem," he recounted. "It was already dark, night. Command took out a map and told my company, 'You're going to conquer Ammunition Hill.'"

At 1:00 AM Sidkoni and his company went down to the police school area near Ammunition Hill and at approximately 2:00 AM the battle began. "Within seconds they began shooting at us. We entered an area that was later named the 'Triangle of Death,' in which the first three soldiers were killed in the battle."

During the battle, Sidkoni's commander was shot in the chest and he was forced to take his place.

"He was seriously injured. We dragged him back into a hiding spot ... and tried to help him, but as a department we were suddenly alone, as if our father had been killed, and was suddenly not there to command us.

"After a second we regained our composure and the sergeant asked me to take charge."

Sidkoni fought with his company on that hill for more than five hours in a battle that proved much more arduous than initially expected, as due to bad intelligence, the Jordanian forces there were three times as many as the Israeli soldiers prepared for.

As the battle waned, Sidkoni said the Israeli troopers began treating and evacuating the wounded, still using the hill's trenches for cover.

"Suddenly I saw a Jordanian soldier's helmet, stood up and shot him dead. At that moment, an Israeli soldier I did not know got up to look out of the ditch, got shot and died. To this day I carry the feeling that maybe that bullet was meant for me, and this has been tormenting me ever since," he said painfully.

For months, Sidkoni was unable to return to Ammunition Hill.

"Here was a heroic battle, though we did not know it at the time. There were huge numbers of wounded and dead here, and I never felt a sense of victory," he admitted. "For months I did not return to this hill, I went up once and could not cope with the smell that permeated the air.

"Every time I come to this place, no matter where on this hill, I am filled with pride, but also with the feeling that something important was lost here."